Spring is a time of love and bloom. Sunshine, the bounty of nature, the tranquility of the forest and wild animals are just some of the elements that influenced the creation of this shimmering gold luster numismatic piece.
Numismatic in tribute to the Ukrainian Easter egg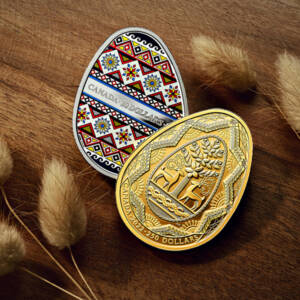 The central motif of this coin, designed by Canadian artist Dave Melnychuk, depicts the tree of life (also known as the tree of paradise), which is considered a symbol of eternal youth. It is a motif typical of Ukrainian folk art. The tree's branches reflect the days of the week and the period of waiting for spring. Prosperity and strength, on the other hand, are symbolized by two deer standing on either side of the tree. These noble animals are often described as kings of the forest. The entire central motif is surrounded by a perpetual band made of eight stars.
Enlarge your collection with this limited edition piece, which shines like golden fields illuminated by the spring sun. It is worth noting that by purchasing this magnificent piece from the Royal Canadian Mint, you are supporting the Canadian Red Cross, which is currently assisting in the humanitarian crisis in Ukraine.
Special features of the coin:
Comes from the Royal Canadian Mint

RCM donates proceeds to charity

Heavily limited mintage – only 250 pieces worldwide

Presented in a clamshell box with a black cosmetic case

Pure Gold Pysanka Coin (2022)