The EHR series is quite popular among collectors from all over the world. The coin we are presenting is the third, and thus the last, from this popular collection. After the eagle and the buffalo, the time has come for the animal considered the undisputed ruler of the forest – the wolf.
A proud wolf on a silver background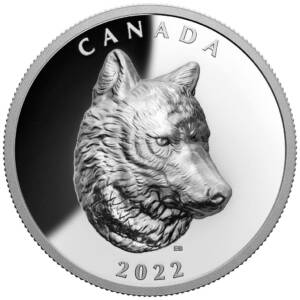 Thanks to the fact that the coin is made of pure 99.99% silver, the face of the wolf depicted on it looks phenomenal. The animal peers from the coin with a solemnity worthy of the king of the forest, and the use of the Extraordinarily High Relief technique made the graphic look extremely natural. At the top of the gold collector coin was the inscription "Canada." In turn, at its bottom there is the date of minting 2022 and small letters "EB", which are the initials of the artist responsible for the design – Eric Boyer.
The obverse features an image of England's Queen Elizabeth II on a patterned background. The offered gold collector coin was packaged in an original box with a cosmetic case and comes with a certificate of authenticity from the Royal Canadian Mint. Note that a gold version of it is also available for sale. If you wish to acquire all the pieces included in the EHR collection, you will find them in our offer. The beautiful silver coin with a wolf was released in a limited edition of 5,000 pieces.
Special features of the silver coin:
Ideal for nature lovers

Quality proof

Enclosed in an elegant clamshell box

Reverse design by Eric Boyer

The obverse features an image of Queen Elizabeth II