The Purely Brilliant series has managed to win over many fans. It's hard not to appreciate the immense amount of work put into crafting the tiny works of art included in it. We present a piece that combines all the most important features of the art of engraving with jeweler's precision. This is an amazing design that cannot be passed by indifferently.
The only such coin in the whole world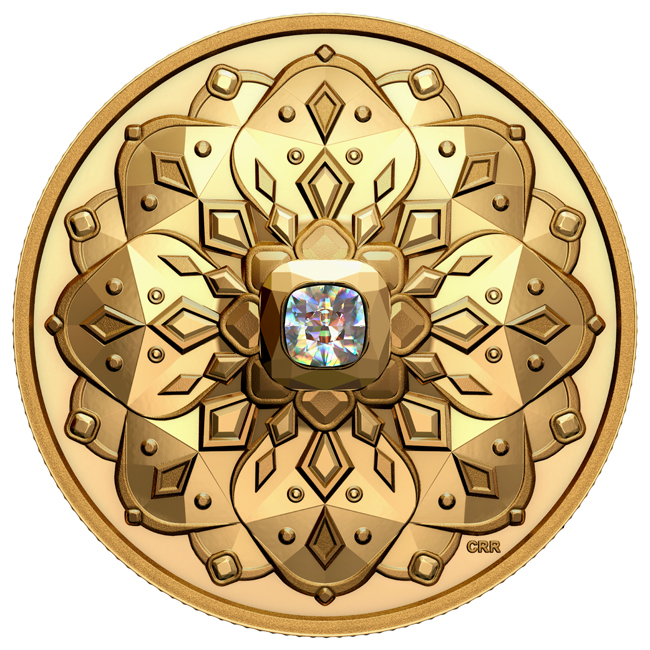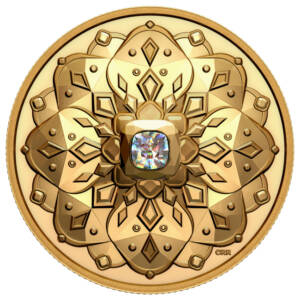 After three worthy predecessors, the time has come for the white raven of the Purely Brilliant series. The engravers at the Royal Canadian Mint have gone to great lengths to ensure that this gold collector coin is a true masterpiece of the engraving trade and a quintessential piece of art cumulated in the only one available in the world. This would not have been possible without the support of the top-notch professionals at Crossworks Manufacturing, who also did a great job in this case.
The composition presented on the obverse refers in a way to the vintage style. Combining geometric shapes with the brilliance of pure 99.99% ultra-refined gold, it will catch the attention of any numismatic enthusiast. The center-mounted Forevermark Black Label diamond adds a fiery sparkle and romantic charm to this sparkling composition. Apart from the abbreviation CRR, no other markings are visible on the obverse. The coin's edges are serrated, and its reverse features an image of England's Queen Elizabeth II.
Special features of the gold coin:
A masterpiece of engraving art

Gemstone from Crossworks Manufacturing

Ultra High Relief

Serrated edges

Coin without box or certificate