Discover a unique coin featuring an iconic piece of Queen Elizabeth II's jewellery collection – the Cambridge Lover´s Knot Tiara. The $250 numismatic coin – straight from the Royal Canadian Mint – has been arousing excitement among collectors around the world since its release. Find out what sets the series of just 175 coins apart.
Homage to Her Majesty's Tiara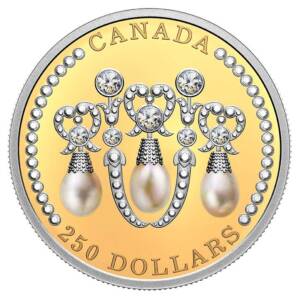 Let's start with the material value. The coin from the Royal Canadian Mint was struck from 2 ounces of 99.99% gold with platinum plating. However, 3 genuine freshwater pearls and as many as 7 diamonds were used to decorate the tiara.
Another distinctive feature is the unusual obverse. On the occasion of the 95th birthday of Queen Elizabeth II, the Canadian Mint decided to place on this side of the coin as many as four different images of the Monarch, from the one used in 1953 to the contemporary one.
Finally: it is worth noting the theme of the collection inspired by the tiara. It was commissioned by Queen Mary in 1913. The jewel has therefore been around for more than 100 years, still bringing a distinctive splendour to the royal collection. What about you? You can feel the uniqueness of the tiara by ordering a rare gold coin with diamonds and pearls.
Special features of the coin:
Cambridge Lover´s Knot Tiara motif

A tribute to Queen Elizabeth II

Gold coin with platinum accents

Luxurious addition of diamonds and pearls

An exclusive, limited edition numismatic coin from Canada