This is the third coin in a series resulting from a collaboration between Crossworks Manufacturing and the Royal Canadian Mint, and another representative of the dazzling Pure Brilliant collection.
The coin, which is the result of a collaboration of outstanding professionals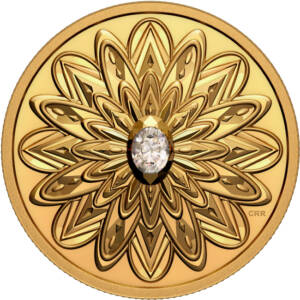 Master engravers have joined forces with diamond experts to create a breathtaking masterpiece. In addition to its craftsmanship, its value is also determined by its organic mintage, as only 350 pieces of this small numismatic masterpiece are available worldwide.
The diamonds on the previous pieces included in the 2019 and 2020 series were square and round, respectively. For the third edition, an oval Forevermark Black Label diamond weighing 0.24 carats was used. The use of Ultra High Relief technology caused the gemstone to rise slightly towards the light, making its brilliance even more pronounced.
Additional exquisiteness is added to the numismatic coin by the material from which it was minted, as it is genuine 99.999% gold. Combined with the layered decorations, this creates an extremely dignified, truly royal composition. The only marking visible on the obverse is the abbreviation CRR. The reverse of this collector coin classically features the image of England's Queen Elizabeth II, as well as the face value, country of origin and date of issue.
Special features of the gold coin:
Design by the artists at Three Degrees Creative

Proof quality finish

Ultra-high relief

Certificates of authenticity included

Packaged in an elegant wooden case