At Coins from World, we love coins that stand out for their original design in addition to their valuable parameters or limited mintages. For this reason, we so often offer numismats from the Royal Canadian Mint, which is one of the world leaders in innovation and design. The third edition of the Sparkle of The Heart Dancing Diamond series is the best confirmation of this.
Glimmer of diamond, purity of silver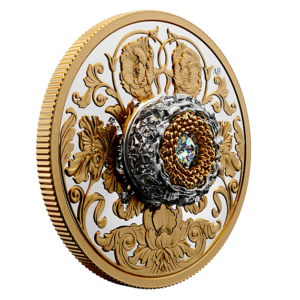 Launching a series of coins does not at all mean that they will be identical or even very similar. This silver coin (number 3 in the Sparkle of The Heart Dancing Diamond collection) is made of pure silver, but thanks to the gilding it looks different from its predecessors.
An unchanged addition is the original Canadian Fire and Ice diamond, patented just like its mounting method. It is thanks to the ingenuity of the Royal Canadian Mint that the luxurious appliqué remains in constant motion, so it can shimmer magnificently whenever it comes into contact with light. We can't help but encourage you to buy it – decide quickly, as there are only 750 copies in the world.
Special features of the coin:
Limited, limited edition

Patented diamond mounting

99.99% silver

Exclusive design by the Royal Canadian Mint

Canadian Fire and Ice diamond