Don't reach for your glasses because your eyes are not deceiving you. You see Canada's first diamond-shaped gold coin. And yes, one of the faces of this decorated gemstone is a diamond. At the Coins From World numismatic shop, you can order a three-dimensional precious coin with great investment potential and collector value.
Gold and diamonds in Canadian style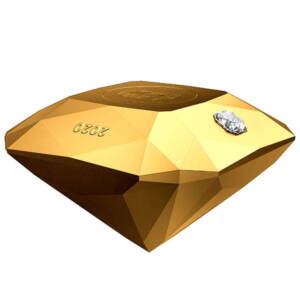 It took Royal Canadian Mint experts one year to develop the perfect shape of a coin inspired by the ideal shape of a diamond. They succeeded, and the result has been admired around the world. Needless to say, since the issue was limited to only 99 copies, the original mintage at the mint has long since sold out. Yet our numismatic online shop offering precious coins from the around the world is the place where you can submit a secure order for one of the pieces.
The matte proof and 5 ounce 99.99% gold purity are impressive, as is the ornate 0.2 ct diamond. This is one of those numismatic items that stands up magnificently in a collection and often makes you want to admire it. It is not surprising – you do not come across a gold diamond every day. Take advantage of a unique opportunity to acquire a valuable and rare coin that proves the class of the Royal Canadian Mint and its engravers.
Special features of the coin:
5 oz pure gold and 0.2 ct diamond.

Very limited edition of 99 pieces only

Unusual shape: coin – diamond

The perfect design by the Royal Canadian Mint

Exclusive Forevermark diamond