The maple leaf is one of the most famous motifs in the world of numismatics, and expanding your collection with interesting pieces of the Canadian "classic" even seems like a collector's duty. We are glad that you choose Coins From World, so it is our duty to provide the most interesting selection of valuable coins from the world on the market. And that's why we're offering another numismatic coin from the Royal Canadian Mint.
Straight from the mint in Winnipeg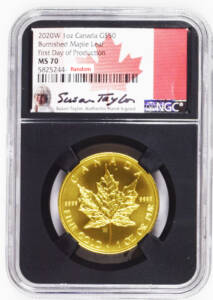 The "W" designation leaves no doubt – this coin was minted at the famous Winnipeg mint. The maple leaf motif has appeared on Canadian bullion coins since 1979. Throughout the years, Royal Canadian Mint experts have specialized in implementing successive innovations like gold purity reaching 99.999%.
In this specimen, the magnificent appearance is provided by the polishing of the obverse and reverse. The leaf itself is transferred to the coin with exceptional care. What's more, only 400 pieces were created in this series dated 2020. The coin's value is evidenced not only by its pure bullion content (1 ounce) and its condition (perfect – NGC MS-70), but also by the fact that the slab was signed by Susan Taylor herself, the designer of the obverse, on which Queen Elizabeth II is immortalized.
Special features of the coin:
Perfect NGC PF/MS 70 condition.

Autograph of Susanna Taylor, the designer of the obverse

W mark denoting production in Winnipeg

Only 400 pieces in the 2020 issue

Finished by polishing