This is the fourth coin in the series reproducing elements of royal jewelry and also the first to shine with such a wonderful aquamarine luster. The platinum-plated elements uniquely contrast with the sincere 99.99% gold from which this piece was made.
Brazilian Tiara on Canadian coin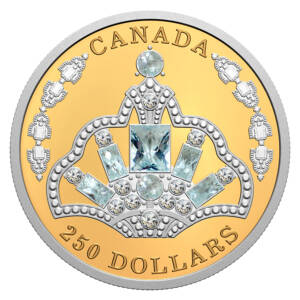 The obverse of the gold collector coin depicts a perfectly reproduced Brazilian Aquamarine Tiara given to Queen Elizabeth II, for which gemstones were collected throughout the year. This spectacular headdress was worn by the English monarch over the years during many important ceremonies. It is one of the symbols still associated with royal majesty today.
In order to replicate the beauty of the Aquamarine Tiara as accurately as possible, 19 precious stones were hand set into it. It is impossible to pass by 12 diamonds and seven aquamarine stones indifferently. The unparalleled realism of the design was further influenced by the fact that each diamond was carved with angular facets at different heights. Nearly two ounces of pure gold and meticulous engraving add even more class to this piece. The image of the crown has been enhanced with lateral decorations and information about the face value and country of origin.
Coins from the presented series are selling at a fast pace. This rare specimen was produced in 175 pieces and is a dream of many collectors. Hurry up and you may be able to complete the entire series!
Special features of the gold coin:
As many as 19 precious stones in total

Platinized elements

The reverse features the likeness of Queen Elizabeth II

Included is a certificate from the Royal Canadian Mint

Enclosed in an elegant wooden box