The geometric patterns depicted on this top-notch gold collector coin reflect light to perfection, making it shimmer with a vivid, stunning luster. The copy is the first in the entire series – we recommend adding it to your collection to increase its value.
A multitude of layers and the original diamond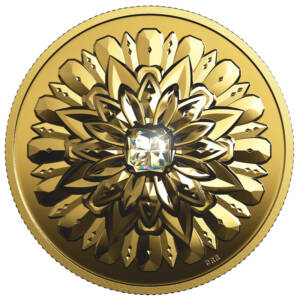 What certainly sets the coin apart is the fact that a genuine Forevermark Black Label Square diamond has been placed on the obverse. It is worth knowing that this precious stone is one of the last to be mined from the Victor mine located in northern Ontario, shortly before its closure. The shapes presented on it were made in ultra-high relief, which adds extra chic and elegance to the design.
The design, which can be associated with a flower, was created with extreme care and attention to even the smallest detail. No markings are visible on the obverse except for the abbreviation – CRR – at the bottom. The design of the obverse was influenced by two artists – Rosana Li and Chris Reid. The reverse presents an image of Queen Elizabeth II of England. Royal Canadian Mint's collaboration with Crossworks Manufacturing resulted in a gold coin with a diamond, which is definitely worth including in your collection.
Special features of the gold coin:
Ultra High Relief

The result of a collaboration between Royal Canadian Mint and Crossworks Manufacturing

Reverse design by artists Chris Reid and Rosina Li

Certificate of authenticity available

Packaged in a wooden case