One of Canada's most famous explorers, Alexander Mackenzi was the first European to traverse the North American continent north of Mexico. His extraordinary, timeless exploits inspired the creation of this limited edition coin.
Great explorer inspires numismatic artwork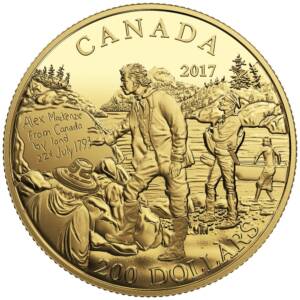 In 1789, Mackenzie's expedition reached the shores of the Arctic ocean. In 1793, he once again set out west and, after an arduous and perilous crossing, reached the coveted waters of the Pacific. He had to return, but managed to leave words quoted to this day on one of the boulders.
The foreground of the collector's gold coin from the "Great Canadian Explorers" series features Sir Mackenzie and the rock on which his famous words are inscribed: "Alex Mackenzie from Canada byland 22D July 1793". To his lower left can be seen a guide from the Nuxalk tribe who contributed to the success of the expedition. On the right, meanwhile, stand two other members of his team, one of whom is carrying a dugout canoe. Behind them you can see the glistening waters of the Pacific Ocean and the bay surrounded by rocky peaks.
The coin is made of pure 99.99% gold, which adds extra luster to the scene reflected on it. No matter how rich your collection is – expand your holdings today with this magnificent gold collector coin associated with one of the world's most important travelers!
Special features of the coin:
Certified coin

Created in memory of a famous historical scene

Enclosed in a beautiful black Clamshell box

Shiny, made of 99.99% gold

Inspired by one of the world's most important explorers