This is the second egg-shaped coin by the Royal Canadian Mint re-creating the artistry of Ukrainian Easter eggs.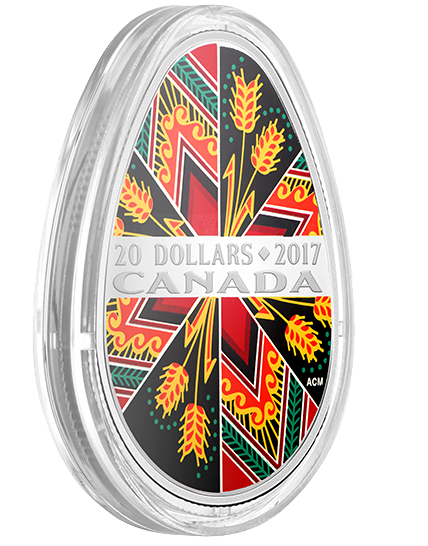 The reverse of this piece includes the design by Canadian artist Ann C. Morash. It waves together symbols and patterns that capture the artistry and uniqueness of Ukrainian Pysanka Easter eggs. The reverse is positioned with four triangular segments representing golden blades of wheat – they convey best wishes for harvest and the soul of the clan. The field beneath them is covered with some geometric figures to depict the sun and stars. They symbolize life, fortune and growth. The bands that frame them represent water – the element of harmony and sustainability of life. The evergreen visible there is the symbol of eternal health and youth. In the middle, there is the inscription "20 dollars, 2017 Canada".
The obverse of this piece includes the effigy of Her Majesty Queen Elizabeth II.
Each of the coins is delivered in a Maroon clamshell with black beauty box.
Thanks to an extraordinary combination of colors, the coin conveys a deep meaning. Yellow stands for purity and light, whereas red is the color of joy and folklore. Green means fertility, spring and health. Black stands for the darkness before dawn.
This coin is available in limited mintage of only 5 000 pieces available worldwide.
Special features:

  The second egg-shaped coin in "Traditional Ukrainian Pysanka" issued by Royal Canadian Mint


 Celebrates Ukrainian tradition on the 126th anniversary of Ukrainian settlement in Canada 


  The selective application of rich colour allows every detail to shine and recreates the breathtaking hand-crafted artistry of a Ukrainian Easter egg


  Crafted from 99.99% pure silver with a weight of 31,83 g


  A low mintage set to just 5,000 coins worldwide


  Previous Pysanka coin sold out!


  The coin comes in a Royal Canadian Mint-branded maroon clamshell with a black beauty box. A Certificate of Authenticity is included