Haida Gwaii is a place of ancient legends where real animals in the disguise of magic rule this three-dimensional world. This exceptional new series of coins shows three of the most powerful and supernatural beings from the realms of water, earth and sky.
The reverse of the coin includes the design by April White—SGaana Jaad of the Yaghu'jaanaas Raven Clan. It shows the image of a bear holding a creature which appears to be a human child in his arms. This supernatural being is known to marry human beings and as a result of these relationships, the cubs of these unions can live like humans when they remove their cloaks. The image indicates the Bear Mother myth.
In the coin the bear is protecting the child. The extended tongue represents communication, he shares his wisdom with his children under the light of full moon. The bear teaches the children his songs and stories and prepares the offspring to live without the father.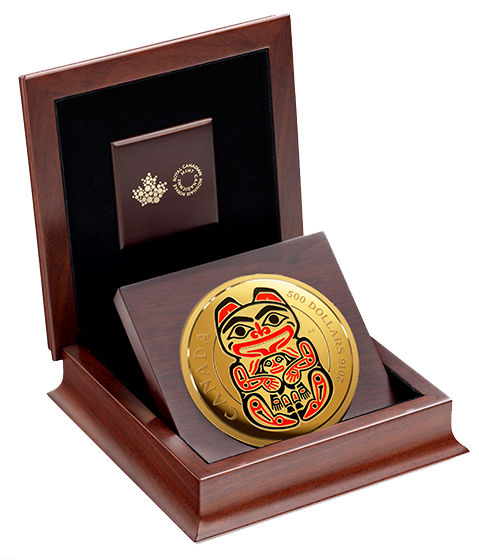 The obverse of the coin shows the image of Queen Elisabeth II with the face value of 500 dollars.
The image is crafted in pure gold and enhanced in the red and black enamel which emphasizes the distinctive artistic style of Haida. It is a keepsake for art collectors and anyone who has ever travelled to the Pacific Northwest.

Each coin is delivered in a maplewood case  box with a black beauty box.
Limited mintage of only 50 coins available worldwide!

Special features:

  Third and final gold coin in stunning Royal Canadian Mint's Haida series – The Bear


  This charming series shows Haida art and culture

  $ 500 Coin was crafted in the 99.99% pure gold 


  156.05 grams of gold 


  Coin is beautifully enhanced with black and red enamel


  Extremely limited mintage – only 50 coins avaiable worldwide


  Coin comes in maplewood case with black beauty box. Certificate of Authenticity is included. 
In the series "Mythical Realms Of The Haida" you can find the following coins:

  Canada 2016 – 500$ Mythical Realms Of The Haida – The Orca

  Canada 2016 – 500$ Mythical Realms Of The Haida – The Eagle


  Canada 2016 – 500$ Mythical Realms Of The Haida – The Bear