The brawny black bear (Ursus americanus) is revered in Canadian aboriginal folklore, being the symbol of strength, introspection and knowledge. The Royal Canadian Mint celebrates this bear as an icon of wilderness and an important part of Canadian culture.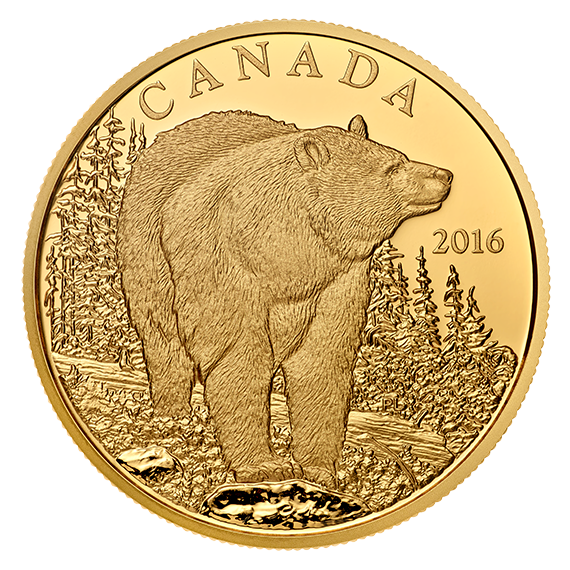 The reverse of the coin shows the design by a Canadian artist Pierre Leduc. This is a highly detailed profile of a bold bear in its natural environment, moving across an open area in one of the Canadian forests. The bear pauses briefly smelling the source of possible food. By turning its head right, the bear offers us the glimpse of his facial profile and features. The animal has been depicted in multiple finishes which add a sense of dimensional layer to the art. The design becomes real due to astounding attention to detail taking a textured approach to recreating some of the black bear's characteristic features.
The obverse of the coin shows the image of Queen Elisabeth II with the face value of 350 dollars and the label D.G. REGINA.
Each coin is delivered in a maroon clamshell with a black beauty box. The package includes also a certificate of authenticity.
This coin is a piece of art. The image of the bear engraved in pure gold is an exquisite collectible piece. It is a must have for everybody interested in nature collecting gold, wildlife-, nature- or Canadian-themed coins.
Limited mintage of only 350 coins in the world makes it one of the most sought collectible.
Special features:

  Another coin in Royal Canadian Mint timeless series featuring Iconic Canadian animals – the Bold Black Bear

  Expertly engraved with multiple finishes! Realistic portrait through an amazing attention to detail

  350$ gold coin is crafted in purest gold available in the world 99.999% to proof perfection!

  35 grams of pure gold

  The reverse was designed by Canadian artist Pierre Leduc

  A mintage limited to only 350 coins worldwide

  Coin is housed in elegant box. A certificate of authenticity is included
In the series "Iconic Canadian Animals" you can find the following coins:

  Canada 2013 – $350 Iconic Canadian Animals – Arctic Polar Bear – Pure Gold Coin


  Canada 2014 – $350 Iconic Canadian Animals – Majestic Moose – Pure Gold Coin


  Canada 2015 – $350 Iconic Canadian Animals – Imposing Alpha Male Wolf – Pure Gold Coin


  Canada 2016 – $350 Iconic Canadian Animals – Bold Black Bear – Pure Gold Coin


  Canada 2017 – $350 Iconic Canadian Animals – Majestic Elk – Pure Gold Coin