Her Majesty Queen Elizabeth II, Queen of Canada is going to celebrate her 90th birthday on April 21, 2016. To celebrate this milestone event the Royal Canadian Mint has issued this outstanding coin made of 99.99% pure gold. The coin pays tribute to the Queen and encompasses rare and elegant symbolism.
The reverse of the coin was inspired by the elements design from the  Vladimir Tiara,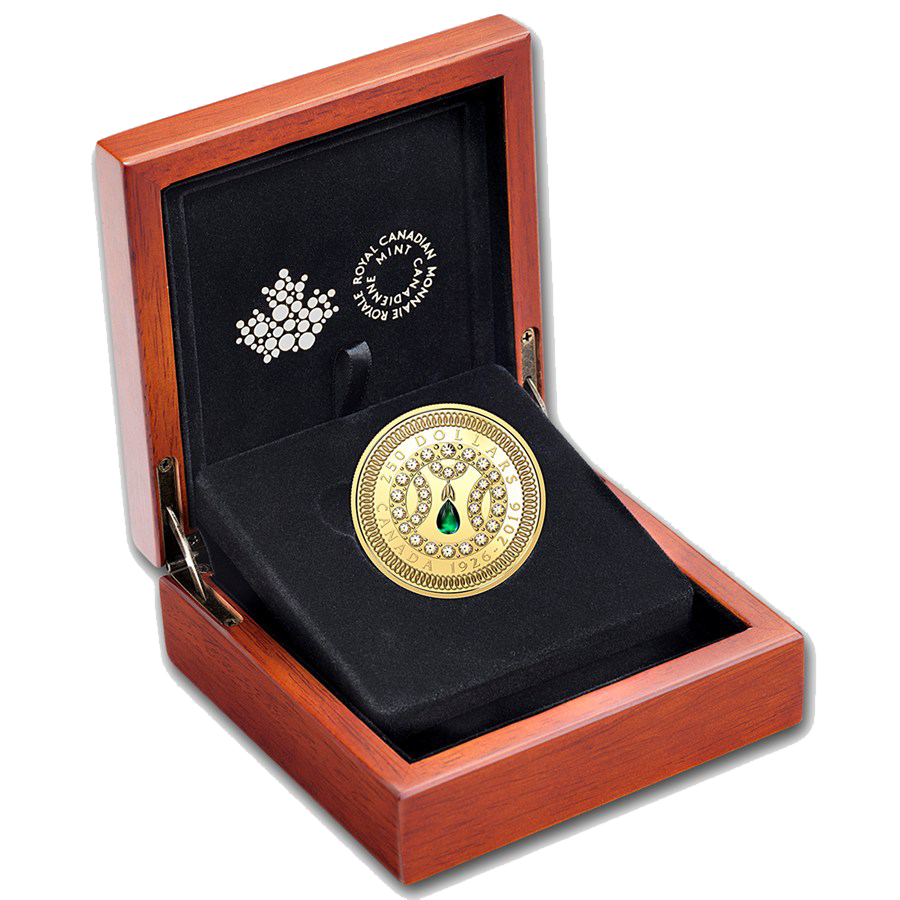 fashioned from the Cambridge Emeralds. The engravers hired by the Royal Canadian Mint cooperated closely with  the renowned jeweler Steve Thompson from Thompson S.D. Jewellers Ltd to incorporate a number of precious stones into the process of the coin production. The result is astonishing! A rare and meticulously crafted gemstone coin echoes the tiara`s diamond circles and emerald centers. This iconic design is further expressed in the delicately engraved motif of the coin`s outer ring – a total of 90 rings to celebrate the 90th birthday of the Queen.
This coins is a unique presentation of minting techniques and jewellery making. It includes a large cabochon emerald placed in the center of the coin and circled by the number of diamonds. The piece represents the beauty and luxury of royal jewels.
Each coin is delivered in a white wooden box with a graphic beauty box. Every box includes a certificate from Sitara to prove the authenticity of the emerald and the diamonds.
Limited mintage of 125 coins only!
Special features:

  $250 pure gold coin – Celebration of her Majesty's Queen Elizabeth II 90th Birthday

  First-ever coin for the Royal Canadian Mint's with a large AAA cabochon emerald and 29 Canadian diamonds!

  Includes a certificate authenticating the quality of the precious stones

  Beautifully crafted in 99.99% pure gold and enhanced with 0.90 carats of diamonds symbolizing 90th birthday of her Majesty

  60.08 grams of pure gold!

  Extremely limited mintage – only 125 coins are avaiable worldwide

  Coin comes with wooden box and graphic beauty box. Certificate of Authenticity is included