Some of the finest wooden ships were produced at the east cost of Canada during the golden era of sailing. The Tall Ships Legacy series begins with the most beautiful and the fastest ship in the world, the Marco Polo. Celebrate the heritage of Canadian shipyards!
The coin commemorates the 165 th anniversary of the launch of the Marco Polo, the most famous ship of New Brunswick and the legendary vessel which brought international acclaim to Saint John's shipyards.
The reverse of the coin includes the design by a Canadian artist Neil Hamelin. It features a three- quarter portside view of the Marco Polo. As the fastest ship of her day, the Marco Polo is captured on an oceanic voyage under full sail. The wind is blowing in the sail raising the masts up into the sky.
The image is engraved with great precision thanks to which the ship`s appearance is faithfully recreated. Every detail is a testament to her shipbuilder.
The obverse of the coin shows the image of Queen Elisabeth II with the face value of 200 dollars.
Every coin is delivered in a maroon clamshell with a black beauty box. A certificate of authenticity is included.
This piece is an exceptional and unforgettable addition to every collection of Canadian or naval themes. It is also a powerful keepsake for those interested in Canadian maritime history.
Due to its limited mintage of only 275 gold coins worldwide, the piece is collectible. It is also available as a 4-coin subscription series.
Special Features: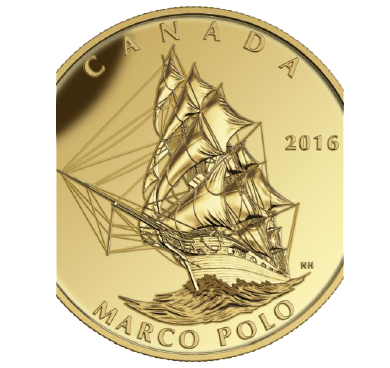 The second coin in the four-coin subscription series


  Beautifully crafted in 31.16 grams of 99.99% pure gold


  Commemorates the "fastest ship in the world" – Marco Polo. In summer of 1852, Marco Polo sailed from Saint John to Liverpool, England with a cargo of timber, making the crossing in 15.3 days.


  Each coin in the Tall-ships legacy series celebrates the famous tall ships that have left an indelible mark on Canadian history


  Remarkably exclusive, with the mintage restricted to a mere 275 coins!


  A timeless and elegant wooden case is included with each subscription. An individually-numbered certificate of authenticity is included.



Coins in the series include:



  2016 $200 Gold Coin – Tall Ships Legacy: Bluenose

  2016 $200 Gold Coin – Tall Ships Legacy: Amazon
Launch date: August 2, 2016


  2016 $200 Gold Coin – Tall Ships Legacy: Discovery
Launch date: October 4, 2016