Extraordinary set of coins!
The Royal Canadian Mint has become the first mint in the world to issue a coin with a Venetian glass element. This beautiful silver coin was minted in 2011. Its engraved reverse bore a colored tulip bloom decorated with a delicate Venetian glass ladybug. Each of the ladybugs was handcrafted from Venetian glass which was renowned by a master glassmaker from Murano, Italy, to show its intense color and gem-like clarity.
The mintage of 100 coins was the first flagship release which has become an annual series of stunning flora-themed coins with Venetian glass fauna and Canadian twist.
Become an owner of these extraordinary coins and stuck in the world class 99.99% pure gold from the Royal Canadian Mint.
Special Features:
Set of 5 unique and stunning gold coins
Superb craftsmanship in 24 karat gold
Sold out at the Mint!
Remarkably exclusive! The mintage restricted to a mere 100 coins!
The Royal Canadian Mint issued the world first series of coins which use Venetian glass
Venetian glass element on coins are handmade by master glassmaker Giuliano Donaggio in Murano
Coin comes in a Royal Canadian Mint-branded maple wooden case with a black beauty box. A certificate of authenticity is included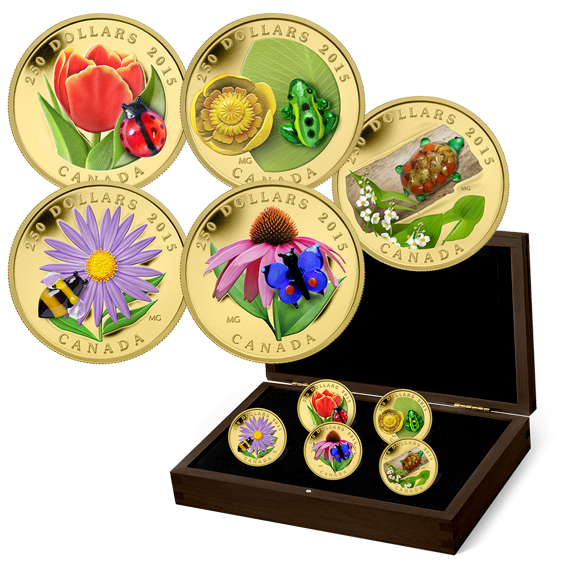 In collection:
Canada 2011 – Tulip with Venetian Glass Ladybug Murano Glass
      Canada 2012 – Aster with Venetian Glass Bumble Bee Murano Glass
                      Canada 2013 – Purple Coneflower with Venetian Glass Butterfly Murano Glass
               Canada 2014 – Water-lily and Venetian Glass Leopard Frog Murano Glass
        Canada 2015 – Turtle with Broadleaf Arrowhead Flower Murano Glass

Design:
The coins have been designed by Maurice Garvis, a Canadian artist. The reverse of each coin includes selectively painted and engraved image of Canadian floral species embellished with a Venetian glass element handcrafted by Giuliano Donaggio who is a master glassmaker from Murano, Italy.
•  Tulip and Ladybug – The first coin in the collection! A red and black Venetian glass ladybug sits on the bright green leaf of a red tulip.
•  Aster and Bumble Bee –A yellow-banded Bumble Bee seats on the golden heart of an engraved and colored purple aster.
•  Purple Coneflower and Eastern Tailed Blue Butterfly – A red-spotted indigo Venetian glass butterfly perches on the pink petals of a coneflower and it is about to feed from the flower center.
•  Water Lily and Leopard Frog – A grass-green Venetian glass frog sits on a brightly painted water lily leaf beside a painted and engraved yellow water lily blossom.
Packaging:
Your coins are presented in a wooden case branded with the Royal Canadian Mint logo and a black beauty box.