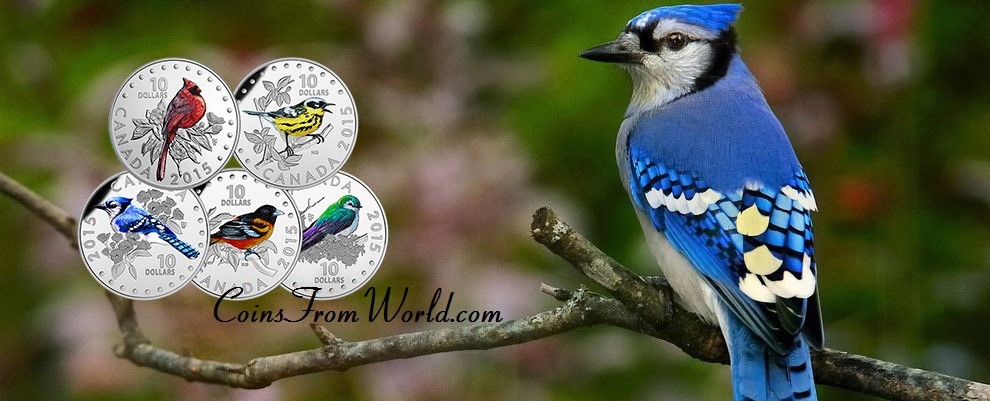 .
The 5-coin Colourful Songbirds of Canada subscription features five birds, each beautifully painted on fine silver! A perfect gift for someone who enjoys how the Royal Canadian Mint depicts birds on silver coins.
First coin design:
The first coin in your subscription was designed by Canadian artist Derek C. Wicks and features a beautiful rendition of a northern cardinal in a tranquil setting. Finely detailed engraving showcases this songbird's distinctive features—from the pointed crest atop its head to its thick, short bill, as well as the soft feathers that lead to its tail. The use of selective colouring recreates the northern cardinal's brilliant red plumage viewed in three-quarter profile, as the bird sits nestled amidst engraved leaves and flower blossoms.
Packaging:
Receive a FREE MUSICAL box to store your five coins: shipped with the fifth and final coin
•  The first coin in your 5-coin subscription is the Northern Cardinal. Other
birds include:
        •  The Magnolia Warbler
        •  The Blue Jay
        •  The Baltimore Oriole
        •  The Violet-green Swallow
•  As well, you will receive a FREE MUSICAL box to store your five coins: shipped with the fifth and final coin! When you open the box, it plays the sounds the five birds make with a classical melody in the background!
•  These 99.99% pure silver coins show the application of selective colour to the engraved birds and recreates the vibrancy of each bird's colouring in the wild.
.
.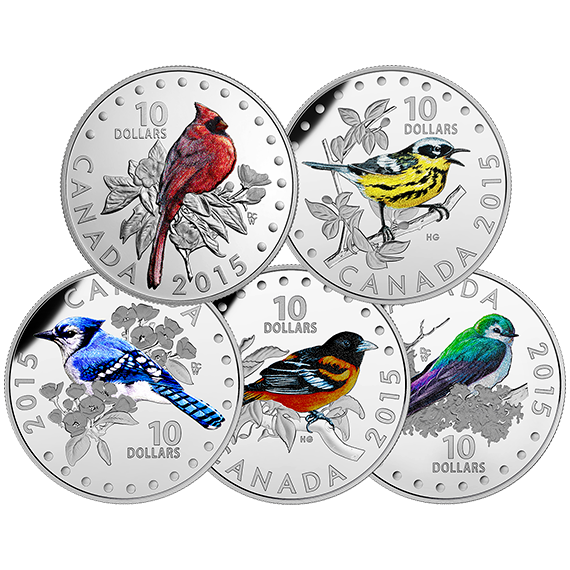 …
    Royal Canadian Mint has issued a full 15,87 grams 99.99% pure silver coin


    Diameter 34.00 mm and beautifully designed coin is made of 99.99% pure silver


    Reverse design to highlight the celebrated beauty of the Colourful Songbirds of Canada, the legal tender value of 10$ and year of emission 2015


    Mintage is 15000 and highly desirable subject matter mean that this coin is sure to be sought after by collectors.


    Coin comes in a beautiful singing bird box and numbered COA


    Strict limited mintage of only 15000 sets worldwide


    Obverse: Effigy of Queen Elizabeth II, "D. G. REGINA"

.
History:
.
The northern cardinal (Cardinalis cardinalis) is a North American bird in the genus Cardinalis; it is also known colloquially as the redbird or common cardinal. It can be found in southern Canada, through the eastern United States from Maine to Texas and south through Mexico. It is found in woodlands, gardens, shrublands, and swamps.
The magnolia warbler (Setophaga magnolia) is a member of the wood warbler family Parulidae. This warbler was first discovered in magnolia trees in the 19th century by famed ornithologist Alexander Wilson while in Mississippi.
The blue jay (Cyanocitta cristata) is a passerine bird in the family Corvidae, native to North America. It is resident through most of eastern and central United States and southern Canada, although western populations may be migratory. It breeds in both deciduous and coniferous forests, and is common near and in residential areas. It is predominantly blue with a white chest and underparts, and a blue crest. It has a black, U-shaped collar around its neck and a black border behind the crest. Genders are similar in size and plumage, and plumage does not vary throughout the year. Four subspecies of the blue jay are recognized.
The Baltimore oriole (Icterus galbula) is a small icterid blackbird common in eastern North America as a migratory breeding bird. It received its name from the resemblance of the male's colors to those on the coat-of-arms of Lord Baltimore. Like all New World orioles, it is named after an unrelated, physically similar family found in the Old World: the Oriolidae. Observations of interbreeding between the Baltimore oriole and the western Bullock's oriole, Icterus bullockii, led to both being classified as a single species, called the northern oriole, from 1973-1995.
The violet-green swallow (Tachycineta thalassina) is a small North American passerine bird in the swallow family. These aerial insectivores are distributed along the west coast from Alaska to Mexico, extending as far east as Montana and Texas. With an appearance very similar to the tree swallow, these individuals can be identified by the white rump side-patches that appear to separate their green back and purple tail. Violet-green swallows are secondary cavity nesters, found in a number of habitats including deciduous and coniferous forests. In addition to nesting in tree holes within these habitats, they are also widely observed nesting in the cracks of large cliffs.