This exquisite coin is the fifth in the Royal Canadian Mint's sought-after series Canadian flora paired with fauna both an engraved and coloured design along with a unique one-of-a-kind, hand-crafted Venetian glass element created by a master glass-maker in Murano, Italy.
About the Design:
The reverse design by Canadian artist Maurice Gervais uses colour to recreate the leaves and white flowers of the broadleaf arrowhead (Sagittaria latifolia), which fills the lower portion of the image field. A floating log serves as the perfect sunbathing platform for a Venetian glass version of a painted turtle, which has been handcrafted by master glass-maker Giuliano Donaggio in Murano, Italy.
Packaging:
Your coin is encapsulated and presented in a Royal Canadian Mint-branded maroon clamshell with a black beauty box.

.
    Contains 1 oz / 31,39 grams of .999 fine Silver.

    Each glass Turtle was handcrafted by a master-glassmaker in Murano, Italy.


    Coin comes in a case with a numbered COA.


    Limited mintage of only 12500 coins


    Obverse: Effigy of Queen Elizabeth II, "Canada ", and the legal tender value of 20 Dollars.


    Distinguished by beatiful glass ladybug – each coin is different
   .
In the series with Murano Glass you can find: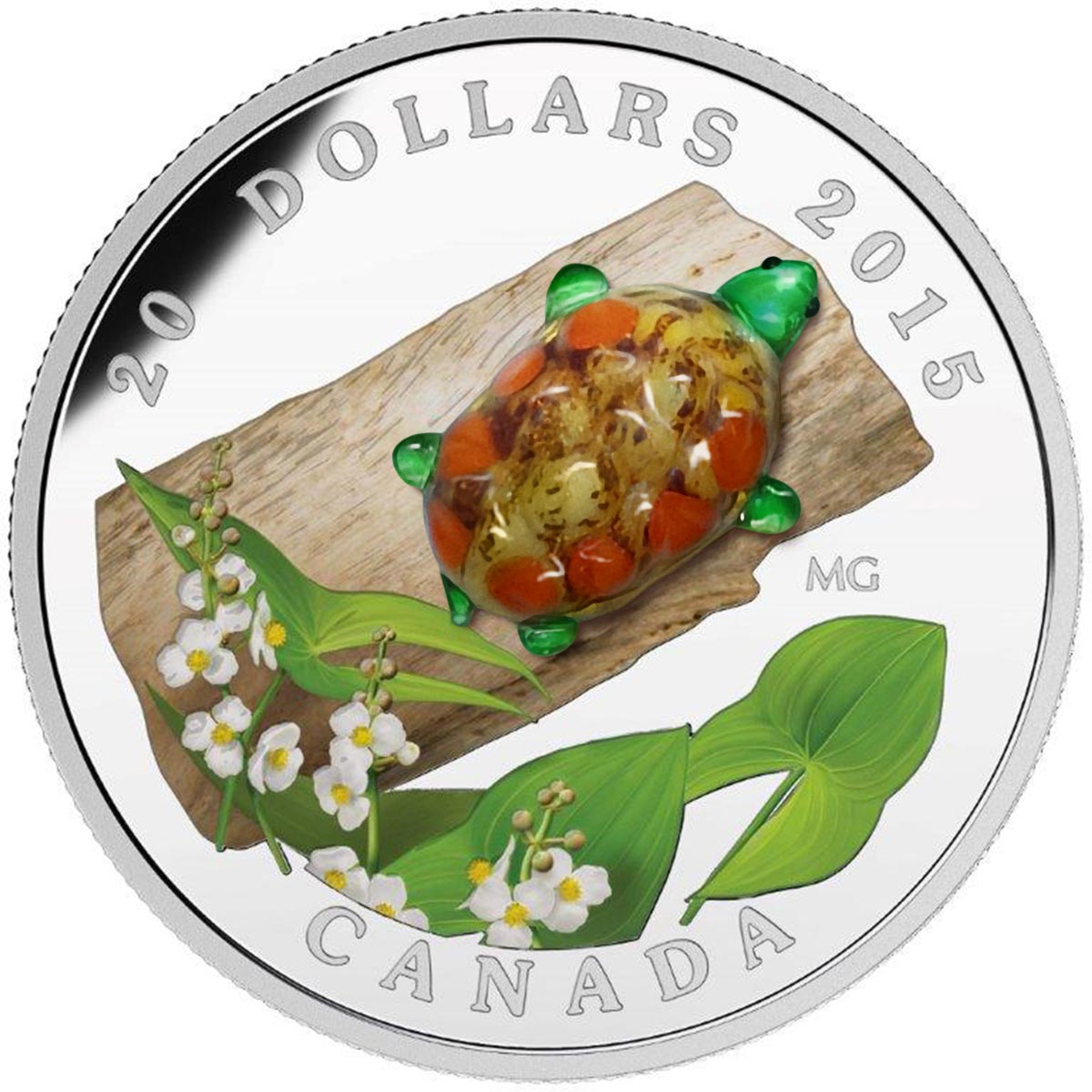 .

  2011 Venetian Glass – Tulip with Ladybug   


  2012 Venetian Glass – Aster with Bumblebee  


  2013 Venetian Glass – Purple Coneflower with Butterfly


  2014 Venetian Glass – Water-Lily And Leopard Frog


  2015 Venetian Glass – Turtle with Broadleaf Arrowhead Flower