.
Designed by Canadian artist Luc Normandin, your coin captures all of the majesty, elegance and beauty of a whooping crane in flight. Fully extended, the bird's broad wings fill the upper space of the image's field, revealing the black flight feathers that are normally hidden when the bird is at rest. The crane's long neck and legs are extended as it takes flight, lending the image a sense of energy and movement. Behind the whooping crane, its nesting habitat in the Canadian wetlands is beautifully rendered in fine detail, complete with the tall grasses and wooded areas along the marsh's edge.
The larger format of this coin illustrates the beauty and majesty of the whooping crane! Order your single coin or order the 3-coin subscription today!
Packaging:
Your coin is encapsulated and presented in a Royal Canadian Mint-branded maroon clamshell with a black beauty box.
.
.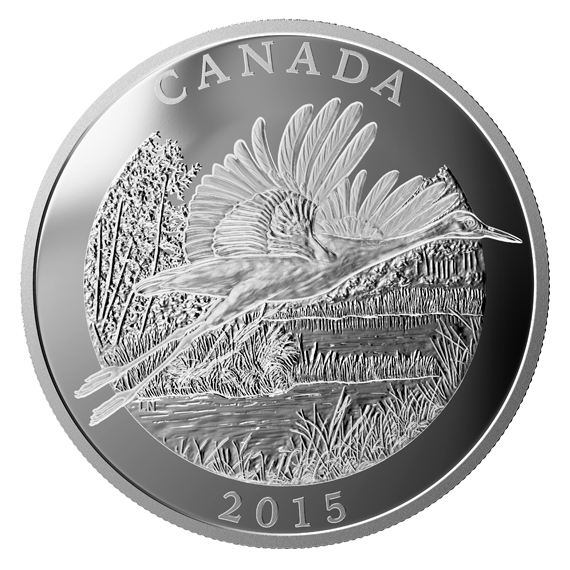 …
    Royal Canadian Mint has issued a full 500 grams 99.99% pure silver coin


    Diameter 85.00 mm and beautifully designed coin is made of 99.99% pure silver


    The coin's exceptionally large diameter allows for an intricately detailed reverse design to highlight the celebrated beauty of the Conservation Series: The Whooping Crane


    Very low mintage of only 500 and highly desirable subject matter mean that this coin is sure to be sought after by collectors.


    Coin comes in a beautiful black box with a numbered COA


    Strict limited mintage of only 500 coins worldwide


    Obverse: Effigy of Queen Elizabeth II, "D. G. REGINA" and the legal tender value of 125$


    Finely detailed engraving captures the breathtaking beauty of the whooping crane within a natural wetlands setting.