.
This is the third coin of a much sought-after series featuring hand-crafted Venetian glass insects.
The purple cornflower is a favourite among Canadian gardeners not only for its easy maintenance, but its ability to attract gorgeous butterflies like the eastern tailed blue. This tiny butterfly, one of Canada's smallest and loveliest, can be found across southeastern Canada from New Brunswick to southeastern Saskatchewan. This coin is a fantastic collector's item as well as a unique and beautiful gift to commemorate a birthday, holiday, a graduation, the coming of spring or any other occasion.
All previous coins in this series sold out quickly, so order yours now!
Design:
Canadian artist Maurice Gervais presents a stunning engraved and painted purple coneflower bloom. The flower features a red-orange tubiflora centre and bright purple petals sitting atop a realistic green stem with two smooth leaves. Perched atop the flower's lower-right petals is a jewel-like Venetian glass eastern tailed blue, hand-crafted by renowned Italian master glassmaker Giuliano Donaggio. The base of each dark blue-tinted translucent wings sports an orange dot. The reverse also features the word "CANADA," the date "2013" and the face value of "20 DOLLARS."
Packaging:
Your coin is encapsulated and presented in a maroon clamshell case lined with flock and protected by a black sleeve.
.
    Contains 1 oz / 31,39 grams of .999 fine Silver.

    Each glass Butterfly was handcrafted by a master-glassmaker in Murano, Italy.


    Coin comes in a case with a numbered COA.


    Limited mintage of only 10000 coins


    Obverse: Effigy of Queen Elizabeth II, "Canada ", and the legal tender value of 20 Dollars.


    Distinguished by beatiful glass ladybug – each coin is different
   .
In the series with Murano Glass you can find: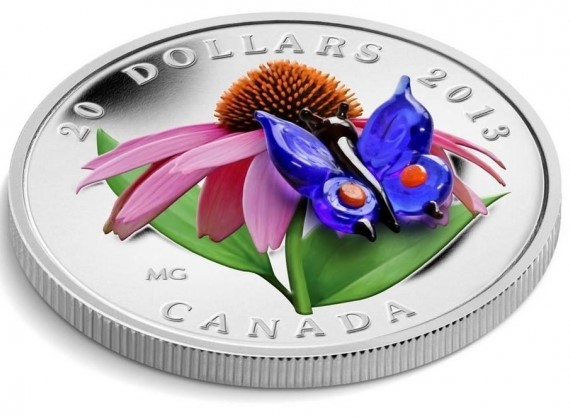 .

  2011 Venetian Glass – Tulip with Ladybug   


  2012 Venetian Glass – Aster with Bumblebee  


  2013 Venetian Glass – Purple Coneflower with Butterfly


  2014 Venetian Glass – Water-Lily And Leopard Frog


  2015 Venetian Glass – Turtle with Broadleaf Arrowhead Flower