Megaterium, a great beast. Its size is similar to modern elephants' and rhinoceroses' size, but in fact it is… a nice ground sloth who inhabited Canada of several dozen thousand, or even several million years ago. Anyway – it became extinct long ago, that's why Royal Canadian Mint minters chose it, because each year they emit platinum coins of high quality that depict prehistoric species.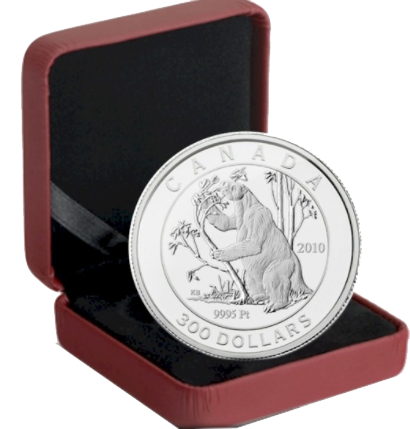 A ground sloth, a platinum coin
Just look at the details and you'll notice the value of this coin. We're talking about platinum art – high fineness 995/1000. Due to a diameter of 30 millimeters, you can take a close look at the minuteness with which minters depicted a sloth devouring leafs. If we turn the coin, we will see face value of 300 dollars, but thanks to the high platinum content it is much more valuable and the value is only going to increase. It is difficult to make a different forecast, taking into account the fact that in 2010, the emission was limited to only 200 copies. Serrated rim, proof stamp, and weight of more than 30 grams – all these parameters encourage you to examine this coin closer and order as soon as possible. Just like other parts of the collection – in this case you will also receive a collector box and a certificate confirming the authenticity.
The fourth edition of the prehistoric 300$ Ground Sloth platinum coin Royal Canadian Mint seriesis focused on one of the largest mammals in history. The sloths we know today are quite small, but this species, living only in North America, actually had something of the beast in it. The fact remains, the beast of quite peaceful character, because the "megaterium" ate plants, often standing. When on two legs, some individuals reached even 6 meters! This former inhabitant of forests and grasslands now can be found only on coins… Fortunately, on quite beautiful and precious coins!
Special features:

  Collector's set with a certificate and box

  Platinum 995 fineness


  A 300-dollar coin

  A special collection of prehistoric animals on valuable platinum coins

  A unique commemoration of the long-extinct ground sloth, one of the largest mammals in history
In the series "PREHISTORIC ANIMALS" you can find:

  Canada 2007 300$ Woolly Mammoth Platinum Coin

  Canada 2008 300$ Scimitar Cat Platinum Coin

  Canada 2009 300$ Steppe Bison Platinum Coin

  Canada 2010 300$ Ground Sloth Platinum Coin