A numismatic remembrance of the historic Spice Route – a blend of pure gold, spices and craftsmanship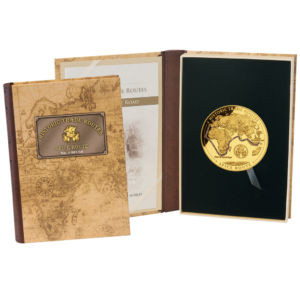 This beautiful coin created with the help of modern technology belongs to the already famous Historic Spice Route series. The fourth in the series, it enchants with its aesthetics of workmanship and the craftsmanship of its inclusion in a gold composition of colorful spices marking the course of the ancient route. Exceptionally valuable due to the limited mintage – only 50 pieces were issued as part of the series, which makes the numismat a desirable, because unique specimen.
The value is enhanced by the precise execution of the reliefs: depicting the map and the cities along the route on one side, and decorating the surface of the coin with an engraved portrait of Elizabeth II on the other. The surface of the coin is also completed with the necessary inscriptions and the coat of arms of the country from which the unique specimen comes.
Special features of the coin:
Denomination with a value of 10,000 CFA francs

Coin thematically referring to the ancient Spice Route

Issued in the Republic of Cameroon in 2020

The coin has a diameter of 80 mm and weighs 155.5 grams

Packaged in an elegant case styled like a book