A numismatic remembrance of the Silk Road – the third coin in the Historic Trade Routes series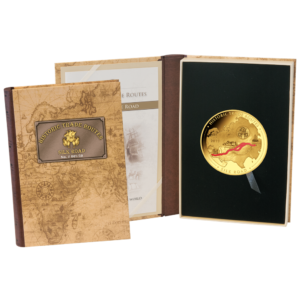 Packaged in an elegant box styled like a map book, the coin minted from 5 ounces of gold appears to be one of the most interesting contemporary created unique pieces. Made in 2019 as the third installment in the acclaimed Historic Trade Routes series, it presents an original design solution of incorporating real silk into the gold.
In addition to the red fiber, the unique piece is decorated with a relief showing the continents and individual cities along the Silk Road route. On the other side is the effigy of Queen Elizabeth II, shown in right profile, inscriptions on the face value, the country of manufacture, as well as a fine but very precisely engraved Cameroonian coat of arms.
Distinguishing features of the gold numismatic coin:
Face value: 10,000 CFA francs

Issued by the Republic of Cameroon in 2019

On the obverse, a portrait of Queen Elizabeth II

Created from an alloy of 999/1000 pure gold content

Coin specifications: 155.5 grams in weight and 80 mm in diameter