History enthusiasts and tea lovers are sure to have heard about the remarkable mountain trail that Tibetan and Chinese traders traveled for hundreds of years. The road they traveled became famous as the Tea Horse Road because the trade was initially based on exchanging tea for horses. This is what the presented coin is dedicated to.
Tea Horse Road – Tea Horse Road on the coin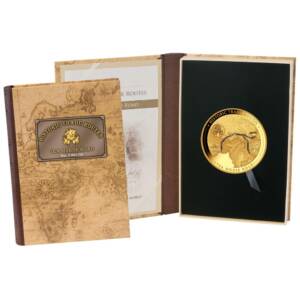 The Historical Trade Routes coin was issued in an edition of only 50 pieces, which makes it extremely attractive for numismatic enthusiasts. The collector numismatic coin with a diameter of 80 mm was struck from 5 ounces of fine gold. This limited-edition coin is the second in the Historical Trade Routes series and depicts the Horse Road, which connects the mountainous province of Yunnan to the Sichuan province located north of it.
What makes the coin special?
What strikes the eye is the craftsmanship, the attention to the smallest details.

A coin referring to the ancient Tea Route.

Creative incorporation of the leitmotif – tea.

The trail depicted on the obverse is finished with dried tea.

The reverse features the likeness of Queen Elizabeth II.