The Blue Marble series is the best proof that collector coins escape clear definitions. The latest issue from faraway Barbados is not only a numismatic piece of genuine silver, but above all an artful adornment to any collection. Will it join yours?
The new Blue Marble coin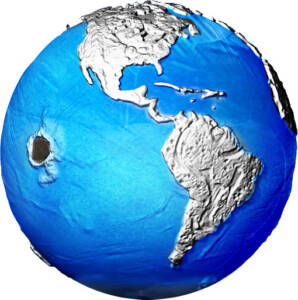 Only 999 of these coins have been created – and each has the identical spherical shape of the Earth. Thanks to precise decoration, the individual continents stand out against the blue oceans. Techniques were used in the numismatic production process to reflect, among other things, the brilliant colour of the water. The coin's ornament and leitmotif is a meteorite striking the Earth.
The 999 silver grade, the non-obvious issuer – the island of Barbados or, finally, the content of 3 ounces of precious bullion make, together with the limited mintage, another coin from the Blue Marble series a desirable collector's numismat. Great to look at and the value… should only increase!
Special features of the coin:
Limited edition of 999 pieces only

The latest release in the Blue Marble collection

3 ounces of silver in a spherical coin

Unique design – a globe

Fine silver sample 999