Collectors purchasing from Coins From World appreciate the diversity of our offerings – we bring you the most interesting pieces from the furthest corners of the world, but we still make sure that valuable coins issued by European countries are available. It turns out that a visit to the Austrian numismatic market may be a truly cosmic experience.
The launch of the Uncharted Universe series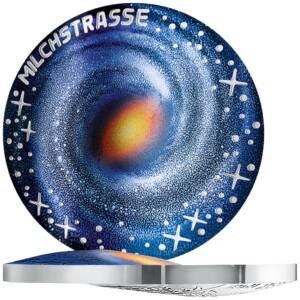 In 2021, the Austrian Mint launched the first instalment of its 20-euro coin series, The Uncharted Universe, on the collectors' market. Reaching for the precious bullion of 925 silver, it provided the perfect opportunity to interpret the theme of space and the universe. The first theme therefore became the Milky Way – the spiral galaxy to which the solar system belongs.
The beauty of the cosmos has been captured with real panache, and the richness of the colours and the unique style of the design set the Austrian mint apart. If you are looking for an interesting, valuable, beautiful collector coin from Europe – meet the strong candidate of 2021.
Special features of the coin:
20 euros from Austria

An intriguing interpretation of the universe motif

The Milky Way transferred to the coin in colour

Over 20 g (0.67 oz) of 925 silver

Design by Helmut Andexlinger