The Lunar Series II is growing at a rapid pace and you can purchase the fourth piece included in it right now. Want to make your collection richer? Invest in this numismatic masterpiece made of one ounce of pure 99.99% gold!
The fourth collector coin from the Lunar Series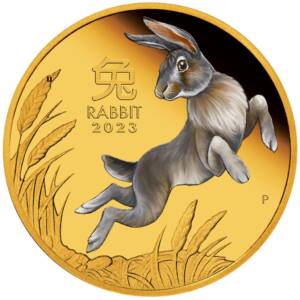 A rabbit walking among the grasses is the centerpiece of the reverse of the featured coin. Whoever was born under the sign of this leaping animal may turn out to be an ambitious and gifted person. People under the Chinese sign of the rabbit often have an artistic soul and are guided in life by instinct, which helps in making the right decisions. They are good, patient companions and charismatic company souls.
The animal has been carefully engraved and beautifully painted, and the ears in the distance shine on the gold surface. At the top of the gold collector coin, the inscription – Rabbit 2023 – has been placed on its left side, and just above it one can notice the Chinese character denoting a rabbit. The "P" symbol on the right side is characteristic of the Perth Mint. When you turn the coin inside out, you will see the image of Queen Elizabeth II. Let this unique golden specimen hop like a rabbit into your collection!
Special features of the coin:
Product in original decorated box

The obverse features the likeness of Queen Elizabeth II

Gold luster and meticulously crafted engraving

Produced at Perth Mint in 2023

Country of origin – Australia