The second coin of an unusual series alluding to the twelve animals representing the seasons in the Chinese calendar was dedicated to the ox. This animal proved to be extremely important for the development of civilization, as it helped in agriculture or transportation for thousands of years. Especially in China, it is still held in high esteem today.
A noble animal on a unique coin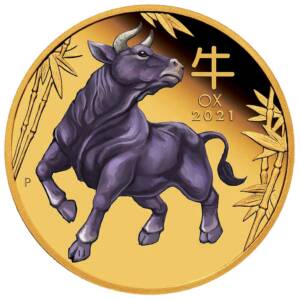 People who were born under the sign of the Chinese ox can present such character traits as industriousness, calmness or logical thinking. The ox presented on the obverse, which represents them, has been made with attention to the smallest details, and its colors perfectly match the smooth gold surface of the collector coin. The plants visible on both sides of the depicted animal are bamboo shoots. On the upper right side, the inscription "OX 2021" is placed, above which is a sign meaning ox in Chinese. This is an extremely strong animal which has contributed significantly to mankind with its hard work.
The other side of the gold collector coin contains the denomination and the proof, as well as the likeness of Queen Elizabeth II. The numismatic coin we offer has been created from pure 99.99% gold and is packaged in the original maroon box with a black cosmetic case. We are confident that this limited edition coin will enrich your collection. Collect all the pieces from the Australian Lunar Series III and purchase this beautiful piece available from us at an attractive price today!
Special features of the coin:
Delivered in an elegant box with original decoration

The reverse features the likeness of Queen Elizabeth II

Produced at Perth Mint in 2021

Meticulously crafted decoration

Place of manufacture – Australia