In ancient times, when people had not yet developed a specific method for measuring time, one of the Chinese emperors established that the following years would be represented successively by 12 animals. This ancient custom inspired the engravers at Perth Mint to create the so-called Lunar Series – this beautifully decorated coin depicting a mouse is the first piece to be part of it.
The beginning of the Lunar Series Lunar III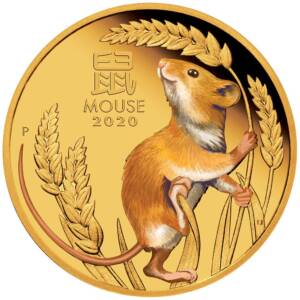 The design is directly related to the Chinese Year of the Mouse 2020, and depicts precisely this small field animal, which enthusiastically squeezes an ear of corn in search of seeds with its muzzle. It should be noted that the mouse is the first of the twelve animals included in the Chinese zodiacal calendar. The golden ears perfectly highlight the material of this gold collector coin, as it is pure 99.99% gold. The "P" mark visible on it is a symbol typical of the Perth mint. This beautifully decorated piece also features the proud inscription MOUSE 2020, over which, in turn, was placed the Chinese character meaning mouse. The reverse features proof and denomination markings, as well as an image of Queen Elizabeth II.
Make your purchase today to see for yourself how carefully crafted this limited edition piece starting the entire series was. Enlarge your collection with this piece, and maybe in time you'll be able to collect the other coins included in the lunar series!
Special features of the gold coin:
Packaged in an elegant box with original decoration

Made with attention to the smallest details

Covered with a certificate of authenticity

Image of Queen Elizabeth II on the reverse side

Manufactured in Australia