The collection of gold coins included in the Rare & Precious series. The limited edition Kimberley Sunset coin is now among them.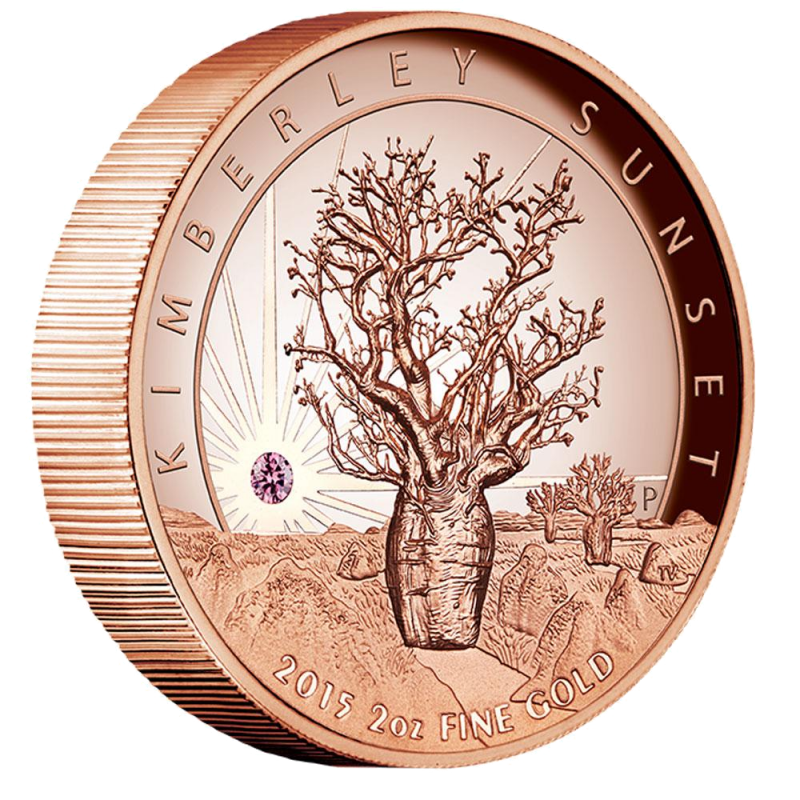 The reverse of the coin includes the image of a tree typical of the Australian landscape, an ancient baobab. Beneath it, in the far north of Australia`s western regions, there were the rarest diamonds in the world formed. To commemorate this event, an insert of the Argyle pink diamond has been included in the coin. The piece embedded near the horizon is the representation of the setting sun. Around the design, there is the inscription "Kimberley Sunset" and the date of issue together with the proof.
The obverse of this coin includes the effigy of Her Majesty Elizabeth II together with the place of issue and legal tender value of 500 dollars.
Each of the coins is delivered in an elegant designer presentation box cushioned with black fabric. There is the brand of The Perth Mint. Every box includes a numbered Certificate of Authenticity.
With the limited mintage of only 500 minted in ultra high-relief pieces worldwide, this coin is going to be a steal for every coin collector and Australian culture fan.
Special features:


  Stunning Kimberley Sunset proof quality coin


  A coin with a fine pink diamond insert to symbolise the sunset


  This coin with unusually high denomination of $500 is issued by Perth Mint as a legal tender

  A proof quality pink gold coin is struck in ultra high relief


  Contains 2 oz. / 62.21 grams of 20-carat (91.67%) pink gold


  Extremely limited mintage – only 500 coins worldwide


  A coin is housed in a black designer case. A numbered Certificate of Authenticity is included
 In the series you can find:


  Australia 2015 – 500$ Kimberley Sunset with Pink Diamond – 2oz Pink Gold Proof High Relief Coin

  Australia 2016 – 500$ Kimberley Sunrise with Diamond – 2 oz Gold Proof High Relief Coin