The kangaroo remains Australia's most famous symbol, so it should come as no surprise that it often finds its way onto Australian collector coins. However, not every one is as special as the specimens you have the opportunity to order from the Coins From World store as part of the 2014 set.
NGC PF70 set of 5 gold coins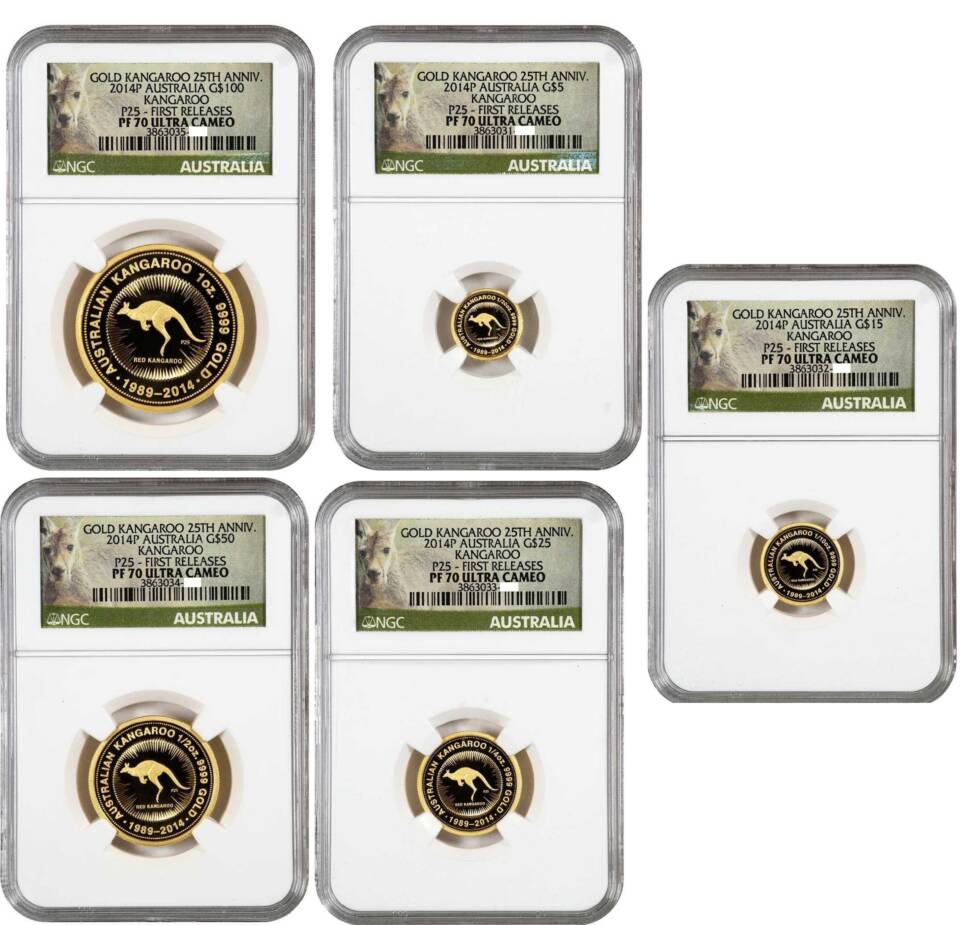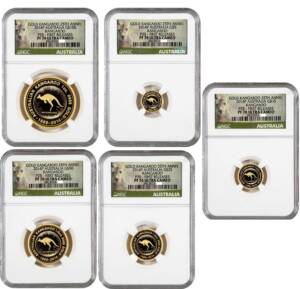 Let's start with a key piece of information – each of the five coins making up this set is in perfect NGC PF70 collector condition. Each differs in size, but they are united by the magnificent quality of .9999 gold. The total is as much as 1.9 ounces of precious bullion.
The exclusive release in the collector's set fell on the 25th anniversary of the first "Gold Kangoroo" issue in 2014. The popular "Kangoroo" is, along with South African Krugerrands or American Eagles and Canadian Maple Leafs, one of the most famous bullion coins in the world. So it's no wonder that even such occasions as the round anniversary of the first issue are celebrated in a special way.
The excellent state of preservation of the coins, the craftsmanship of the coins or the luxurious nature of the issue make a clear decision. Order the set as soon as possible, as with great certainty the offer arouses considerable interest from the very first moments
Special features of the coin:
Pure .9999 gold

Round celebration of "Kangaroo" coins

Perfect state of preservation (NGC PF70)

A set of legendary Australian coins

Each coin in a different dimension
1) 100 Dollars (1 oz) – NGC PR70 Ultra Cameo First Releases
 2) 50 Dollars (1/2 oz) – NGC PR70 Ultra Cameo First Releases
 3) 25 Dollars (1/4 oz) – NGC PR70 Ultra Cameo First Releases
 4) 15 Dollars (1/10 oz) – NGC PR70 Ultra Cameo First Releases
 5) 5 Dollars (1/20 oz) – NGC PR70 Ultra Cameo First Releases