.
The second release in the Bush Babies II – Platypus

This set contains one of each of the five Australian Bush babies II Series coins, kookaburra, Possum, Echidna, Platypus, Wombat. Five new inhabitants of Australia's small and beautiful Bush babies This is perfect position for your new second collection. This series features heartfelt portraits of Australia's favourite and adorable baby creatures, captured in brilliant colour by inspired designer Elise Martinson.
Bush Babies Series – In 2010, the Perth Mint released a new series celebrating the young offspring of some of Australia's most well-known animals. The series was so popular that, in 2012, the mint decided to release a second Bush Babies series! Each animal in coins is colorized for added beauty!
.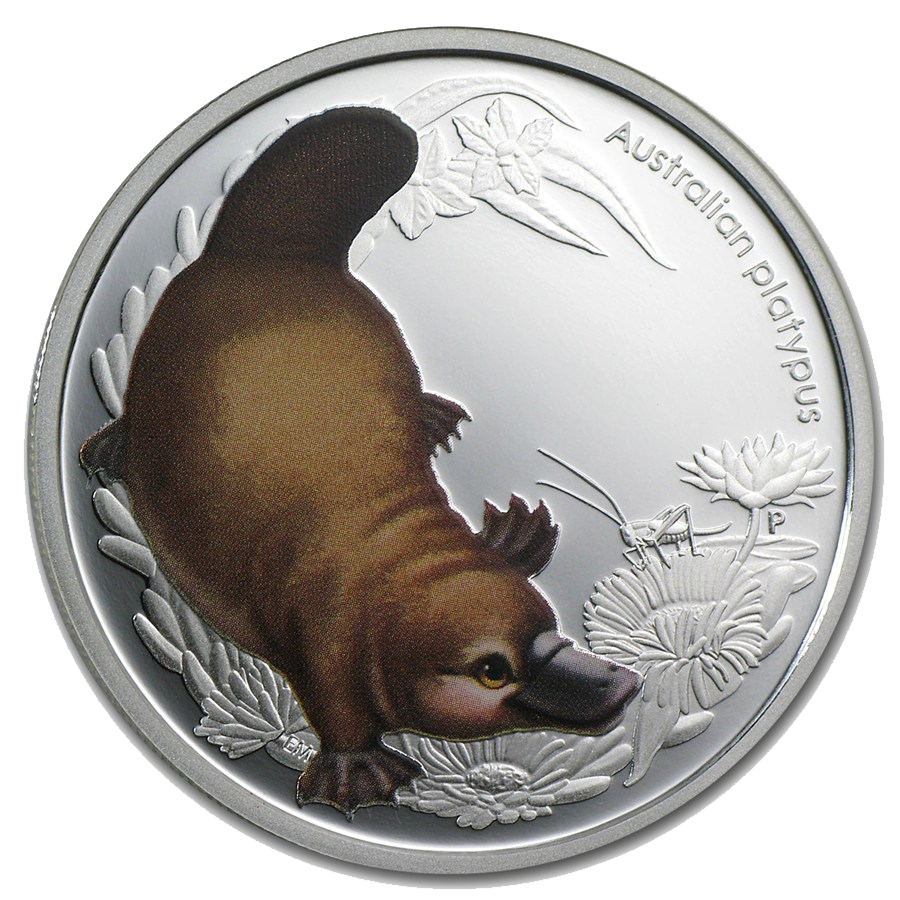 …
    Perth Mint has issued second series Bush Babies II in a full 15,591 grams 99.99% pure silver coin


    Diameter 36.6 mm and beautifully designed coin is made of 99.99% pure silver Proof coin


     Reverse Including an inner panel design of a color sweet "Platypus". The design includes one the inscriptions "PLATYPUS" and The Perth Mint traditional "P" mint mark.

    Obverse: Effigy of Queen Elizabeth II, Country Australia, Weight 1/2 oz. silver 999, date of issue 2010 and the legal tender value of 0.5$ CENTS Australian Dollars


    Mintage is 10,000 and is very popular series from Perth Mint in last years


    Strict limited mintage of 10,000 coins worldwide and is very hard to get


    Coin comes in a beautiful presented in a prestigious color case with numbered COA

.
In the series of Australian Bush Babies you can find:
.

  2010 Australian Bush Babies I – Kangaroo

  2010 Australian Bush Babies I – Sugar Glider


  2011 Australian Bush Babies I – Dingo

  2011 Australian Bush Babies I – Bilby


  2011 Australian Bush Babies I – Koala

.
In the second series of Australian Bush Babies you can find:
.

  2012 Australian Bush Babies II – Kookaburra


  2013 Australian Bush Babies II – Possum

  2013 Australian Bush Babies II – Echidna


  2013 Australian Bush Babies II – Platypus

  2013 Australian Bush Babies II – Wombat
.
.
.
.
History:
The platypus (Ornithorhynchus anatinus) also known as the duck-billed platypus is a semiaquatic egg-laying mammal endemic to eastern Australia, including Tasmania. Together with the four species of echidna, it is one of the five extant species of monotremes, the only mammals that lay eggs instead of giving birth. The animal is the sole living representative of its family (Ornithorhynchidae) and genus (Ornithorhynchus), though a number of related species have been found in the fossil record.
The unusual appearance of this egg-laying, duck-billed, beaver-tailed, otter-footed mammal baffled European naturalists when they first encountered it, with some considering it an elaborate hoax. It is one of the few venomous mammals, the male platypus having a spur on the hind foot that delivers a venom capable of causing severe pain to humans. The unique features of the platypus make it an important subject in the study of evolutionary biology and a recognisable and iconic symbol of Australia; it has appeared as a mascot at national events and is featured on the reverse of its 20-cent coin. The platypus is the animal emblem of the state of New South Wales.
Until the early 20th century, it was hunted for its fur, but it is now protected throughout its range. Although captive breeding programs have had only limited success and the platypus is vulnerable to the effects of pollution, it is not under any immediate threat.

.