Mintage of only 10,000! each coin
This set contains one of each of the five Australian Sea Life II Series coins, Hawksbill Turtle, Starfish, Surgeonfish, Octopus, Manta Ray. Five new inhabitants of Australia's underwater wonder world are featured on Australian Sea Life II – The Reef series.
The second release in this series is a real stunner featuring everyone's favourite sea creature, the starfish. The lifespan of this marine creature varies between 10 years for smaller species and up to a reported 35 years for the larger species. Beyond its distinctive shape, the starfish is famous for its ability to regenerate limbs, and in some cases, its entire body.
Despite its name, a starfish is not really a fish at all – hence the alternative 'sea star'. Many of these wonderfully colourful creatures are at home in Australia's tropical-to-temperate seas, and because they're commonly found in rock pools, they're one of the easiest for all to enjoy!
The coin's reverse depicts a starfish in colour and includes The Perth Mint's 'P' mintmark.  Incorporated into the design are the inscriptions AUSTRALIAN SEA LIFE II – THE REEF and STARFISH.
Each coin is housed in a display case with a stunningly illustrated coral reef shipper.  When lined up with other shippers in the series, it creates an extended underwater reef scene.
.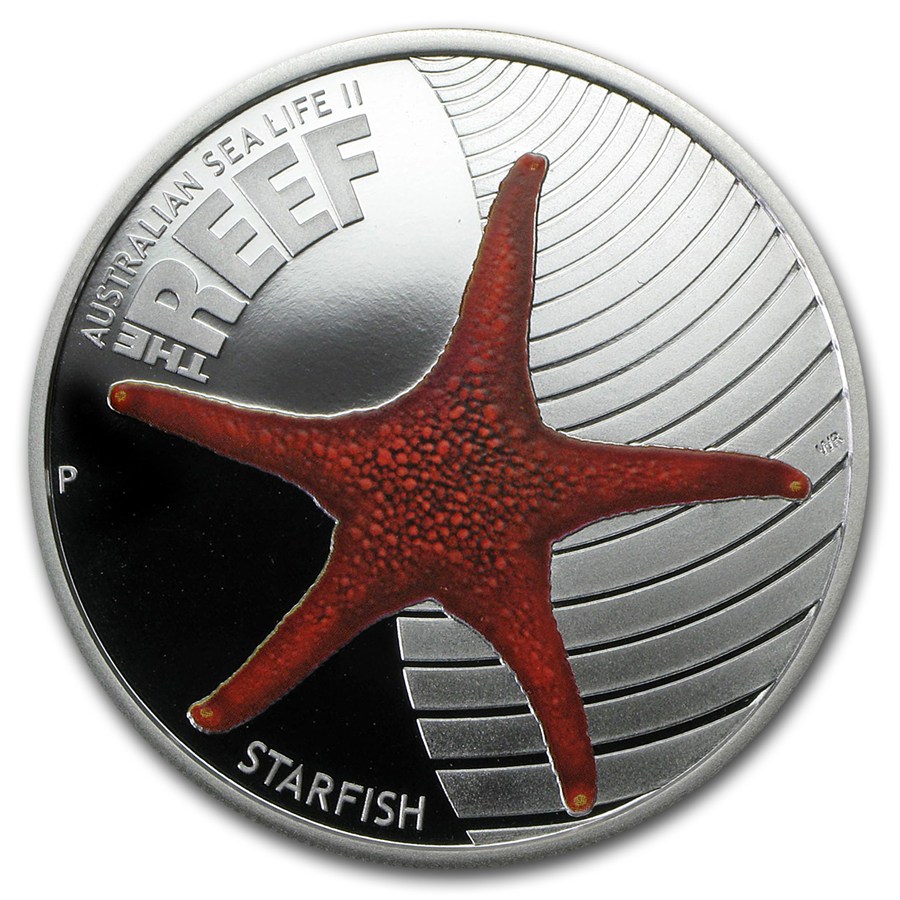 …
    Perth Mint has issued a full 15,5 grams 99.99% pure silver coin


    Diameter 36.6 mm and beautifully designed coin is made of 99.99% pure silver Proof coin


     Reverse Including an inner panel design of a color danger "Starfish". The design includes two the inscriptions "STARFISH"  "AUSTRALIAN SEA LIFE – THE REEF II", and The Perth Mint traditional "P" mint mark.


    Obverse: Effigy of Queen Elizabeth II and the legal tender value of 0.5$ CENTS Australian Dollars

    Mintage is 10000 and is highly popular series from Perth Mint


    Strict limited mintage of 10000 coins worldwide and is also very hard to get


    Coin comes in a beautiful presented in a prestigious color case with numbered COA

.
In the series of Australian Sea Life you can find:
.

  2011 Australian Sea Life II – Hawksbill Turtle

  2011 Australian Sea Life II – Starfish

  2012 Australian Sea Life II – Surgeonfish

  2012 Australian Sea Life II – Octopus

  2012 Australian Sea Life II – Manta Ray