.
Very low mintage for this perfect series, only 7,500! each coin.
Silver series Treasures of Australia is a beautiful series of locket coins celebrating Australia's abundance of natural riches.

The second silver release from our Treasures of Australia locket coin series encapsulates opals.  Australia produces around 95 per cent of the world's opals, including gem quality opal from the South Australian town of Coober Pedy, and coveted black opal from Lightning Ridge in New South Wales.
The design surrounds a transparent half-circle locket containing approximately 1-carat of Australian white opals.  A token of hope and purity in ancient times, opal is the modern birthstone of people born in October.
Scheduled for release between 2007 and 2011, Treasures of Australia celebrates five glittering prizes found in Australia:  Sapphires, Opals, Diamonds, Gold nuggets, and Pearls.
.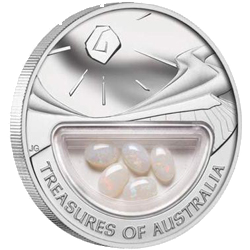 …
.
…
    Perth Mint has issued amazing series Treasures of Australia in a full 31,1 grams 99.99% pure silver coin


    Diameter 40.6 mm and beautifully designed coin is made of 99.99% pure silver Proof coin


    Reverse design portrays an abstract interpretation of Australia's stark and beautiful landscape. The design includes one the inscriptions "TREASURES OF AUSTRALIA" and Contains 1-Carat of Opals seen from two sides

    Obverse: Effigy of Queen Elizabeth II, Country Australia, Weight 1 oz. silver 999, date of issue 2008 and the legal tender value of 1$ Australian Dollars


    Mintage is 7,500 and is very popular series from Perth Mint in last years


    Strict limited mintage of 7,500 coins worldwide and is sold out


    Coin comes in a beautiful presented in a prestigious color case with numbered COA

.
In the series of Treasures of Australia you can find:
.

  2007 Treasures of Australia – Sapphires

  2008 Treasures of Australia – Opals


  2009 Treasures of Australia – Diamonds

  2010 Treasures of Australia – Gold Nuggets


  2011 Treasures of Australia – Keshi Pearl
.
.
History:
Opal is a hydrated amorphous form of silica (SiO2·nH2O); its water content may range from 3 to 21% by weight, but is usually between 6 and 10%. Because of its amorphous character, it is classed as a mineraloid, unlike crystalline forms of silica, which are classed as minerals. It is deposited at a relatively low temperature and may occur in the fissures of almost any kind of rock, being most commonly found with limonite, sandstone, rhyolite, marl, and basalt. Opal is the national gemstone of Australia.
The internal structure of precious opal makes it diffract light; depending on the conditions in which it formed, it can take on many colors. Precious opal ranges from clear through white, gray, red, orange, yellow, green, blue, magenta, rose, pink, slate, olive, brown, and black. Of these hues, the black opals are the most rare, whereas white and greens are the most common. It varies in optical density from opaque to semitransparent.

.