The 2017 set is the first since 2004 (!) in which the Royal Canadian Mint has used pure platinum – a precious, refined, luxury bullion. The occasion was the 70th wedding anniversary of Queen Elizabeth II and Prince Philip, Duke of Edinburgh.
Platinum coins for the Platinum Jubilee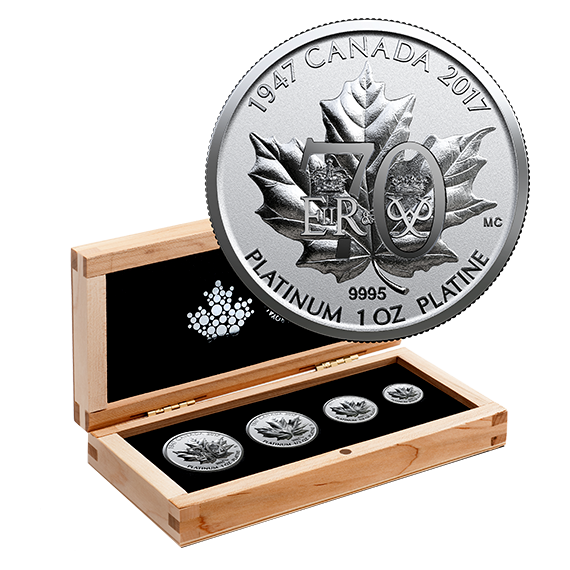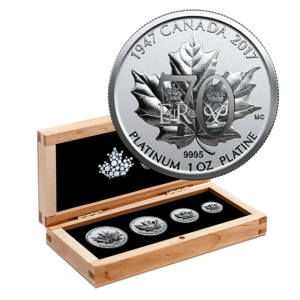 Since the 70th wedding anniversary is called a Platinum Jubilee, platinum – 99.95% – was used to mint the four coins making up the set. Each of the numismats has a slightly different size, and they are originally packaged in a special, wooden, elegant collector's box.
The designers of the Royal Canadian Mint Marie-Elaine Cusson and Susanna Blunt took care of the refined, elegant character of the design. And the occasion was one of a kind, as it was 70 years since Elizabeth and Philip's wedding in 2017. It is worth noting that Prince Philip, who died in 2021, was the oldest spouse of a British monarch in history. The couple lived to see four descendants – Charles, Anne, Andrew and Edward.
Since Elizabeth II's image traditionally appears on Canadian coins, such a special moment in her life as the round 70th wedding anniversary deserved a unique commemoration. Now you can become the owner of one of only 600 platinum sets!
Special features of the coin:
Set of four platinum numismats
Specially for Elizabeth II and Philip to commemorate their 70th wedding anniversary
The only such original collector's set
A unique combination of coins in a box
Commemorating an extraordinary marriage