Mother-of-pearl, which the featured coin contains, have long been an extremely important part of Australian culture. If you are looking for an unusual and distinctive numismatic coin, we guarantee that this piece will surprise you. How about completing all the treasures from the uncommon Great Southern Land series?
Marine animals and the Great Southern Land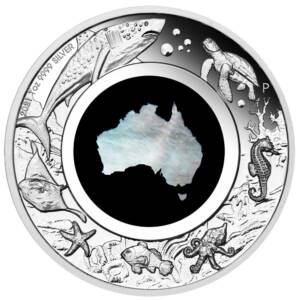 The inset made of authentic mother-of-pearl shows the outline of the so-called Great Southern Land. This iridescent material blended perfectly into the obverse of the coin struck from one ounce of genuine 99.99% silver. Located in the center, the image was complemented by marine animals arranged along the edge.
The carefully engraved graphic features, in sequence, a white shark, a sea turtle, a seahorse, a blue octopus, a starfish and a stingray. In the upper left corner, just above the shark, small inscriptions can be seen indicating the date of minting, the number of ounces, as well as the sample of bullion used during production. The small letter "P" placed on the right side is the hallmark of the Perth Mint.
On the reverse side there is space for the image of Queen Elizabeth II surrounded by an engraved design, as well as the inscriptions – Elizabeth II, Australia and 1 Dollar.
Special features of the silver coin:
A variety of finish styles

Certificate of authenticity included

Coin packaged in a classic display case with a transparent lid

Quality proof

Legal Australian legal tender