The bird of prey that is the protagonist of this limited numismat is the undisputed king of the Mongolian skies, which has been associated with local culture and traditions since the dawn of time. Specialists in the engraving craft have transferred his image to this silver collector coin using modern techniques, which has made it possible to achieve the maximum realistic effect.
Wild falcon as an important part of Mongolian culture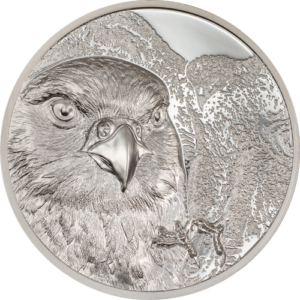 A novelty in the world of numismatics – smartminting – and a relief that extends all the way to the edge make the falcon look like the real thing on this coin. The graphic on the reverse depicting the falcon's talons has also been enhanced with the latest technology. This makes the bird's claws on a tree branch appear really sharp. The date of issue has been interestingly woven into the background pattern, and information on weight, denomination and origin is enclosed in an ornate octagon.
No markings were included on the front of the coin. The bird peers from the left side of the obverse with a focused, determined gaze, while the right side is filled with its image depicted in flight. The featured numismatic coin was made of 99.99% pure silver and released in a limited mintage of 2,500 pieces.
Special features of the silver coin:
Decorative box with a special graphic motif

Proof finish

Artful design of the falcon

Use of smartminting technology

Certificate of authenticity available