We present you the latest Royal Canadian Mint offer.
In the March issue we can admire min. the first coin from the latest series of Small Creatures, decorated with the image of a snail made of Venetian glass. You can guess that, like the previous coins decorated with Murano glass, this one will sell out at a rapid pace.
An interesting offer from the new issue of the Canadian mint is also an exclusive set of 4 x 2 $, made of the highest sample of two platinum and two gold coins, stamped on the 20th anniversary of the popular toonies – Canadian dwublolarów in the form of coins, which replaced paper bills with this denomination.
RCM has also prepared for you the third coin from the Geometry in Art series, this time showing the caribou made in an unusual way. For the most demanding collectors looking for exclusive numismatics, a coin minted out of pure gold was released, adorned with a stunning image of Bluenose – a Canadian schooner and regatta who has permanently registered on the pages of Canadian history.
If you are interested in what else the Royal Canadian Mint has prepared for you, we invite you to read the March issue.
If you are interested in any item, please contact us.Szybki Kontakt
Canada 2016 4-COIN SET 20 YEARS IN THE MINTING
Coin 1 Top-left – 99.95% pure platinum, selective gold plating
Coin 2 Top-right – 99.99% pure gold
Coin 3 Bottom-left – 99.95% pure platinum
Coin 4 Bottom-right – 99.99% pure gold
Mintage 150
Weight (g)* 31.16 (each)
Diameter (mm) 30 (each)
Face Value $2 (each)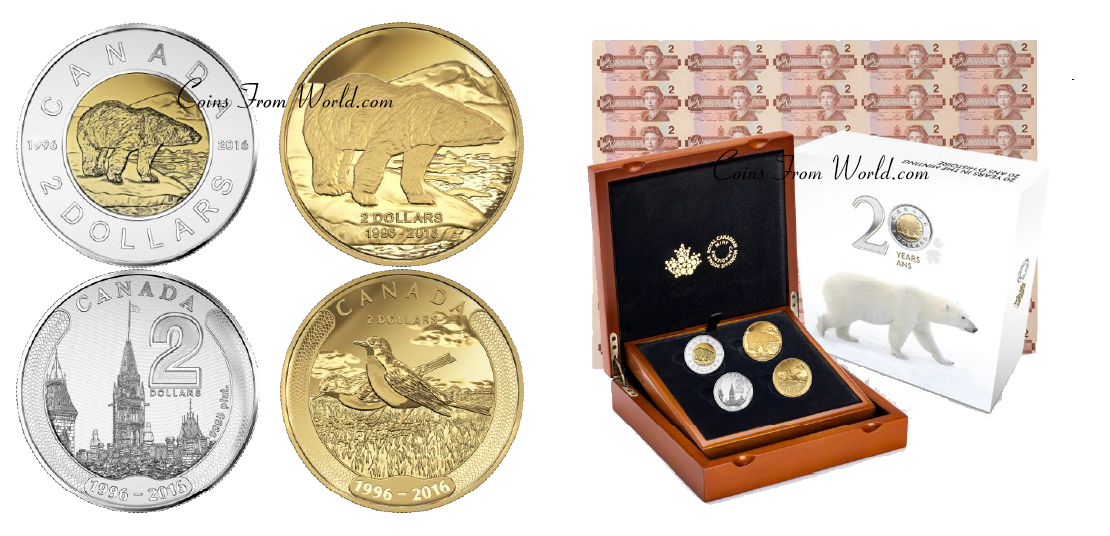 Canada 2016 $200 PURE GOLD COIN – TALL SHIPS LEGACY: BLUENOSE
Composition 99.99% pure gold
Mintage 275
Weight (g)*
31.16 Diameter (mm) 30
Face Value $200
Finish Proof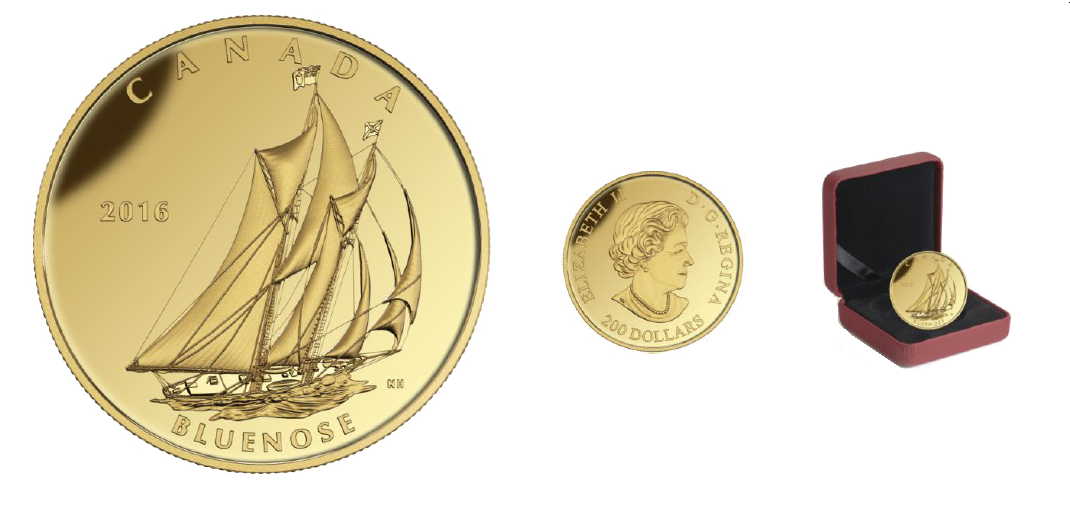 Canada 2016 25-CENT PURE GOLD COIN – PREDATOR VS. PREY: TRADITIONAL ARCTIC FOX
Composition 99.99% pure gold
Mintage 6,500
Weight (g)* 0.5
Diameter (mm) 11
Face Value 25 cents
Finish Proof
Soon
Canada 2016 $20 FINE SILVER COIN LITTLE CREATURES: SNAIL
Composition 99.99% pure silver
Mintage 12,500
Weight (g)* 31.39
Diameter (mm) 38
Face Value $20
Finish Proof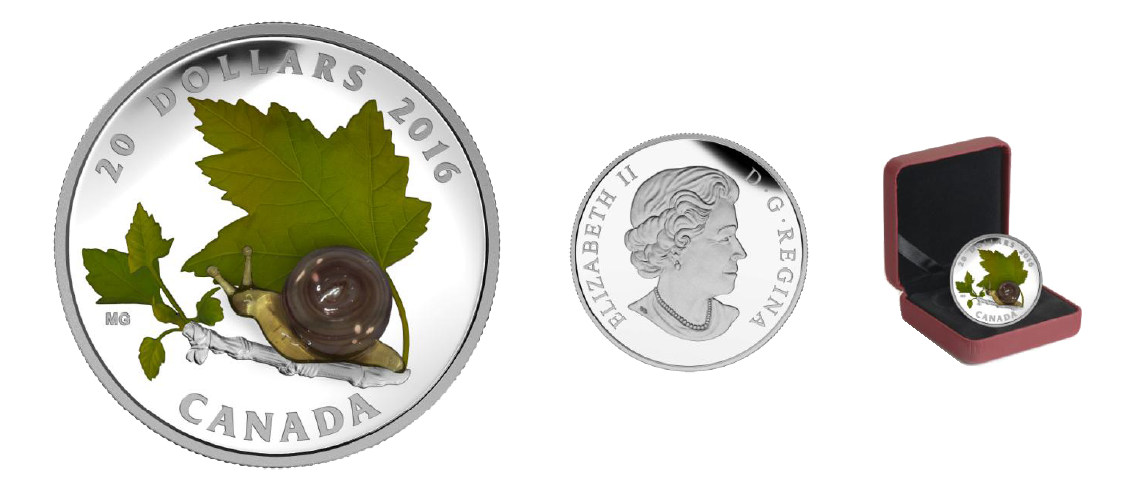 Canada 2016 $20 FINE SILVER COIN GEOMETRY IN ART: THE CARIBOU
Composition 99.99% pure silver
Mintage 7,500
Weight (g)* 31.83
Diameter (mm) 40
Face Value $20
Finish Proof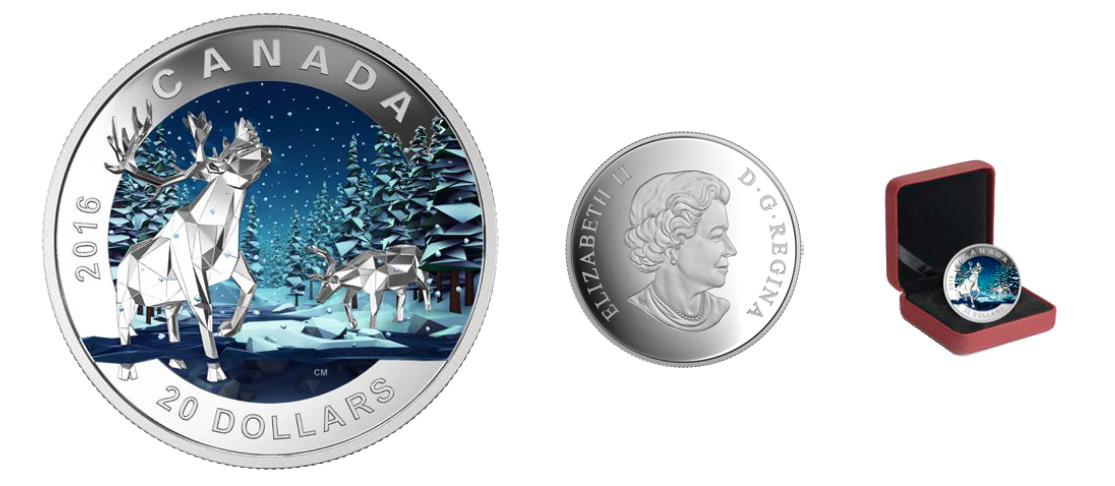 Canada 2016 $20 FINE SILVER COIN REGAL RED-TAILED HAWK
Composition 99.99% pure silver
Mintage 6,500
Weight (g)* 31.39
Diameter (mm) 38
Face Value $20
Finish Proof

Canada 2016 $20 FINE SILVER COIN – LANDSCAPE ILLUSION MOUNTAIN GOAT
Composition 99.99% pure silver
Mintage 5,500
Weight (g)* 31.39
Diameter (mm) 38
Face Value $20
Finish Proof
Soon
Canada 2016 $20 FINE SILVER COIN CANADIAN SALMONIDS: ARCTIC CHAR
Composition 99.99% pure silver
Mintage 7,500
Weight (g)* 32.83
Diameter (mm) 40
Face Value $20
Finish Proof
Soon
Canada 2016 $15 FINE SILVER COIN CHERRY BLOSSOMS
Composition 99.99% pure silver
Mintage 10,000
Weight (g)* 23.17
Diameter (mm) 36.07
Face Value $15
Finish Proof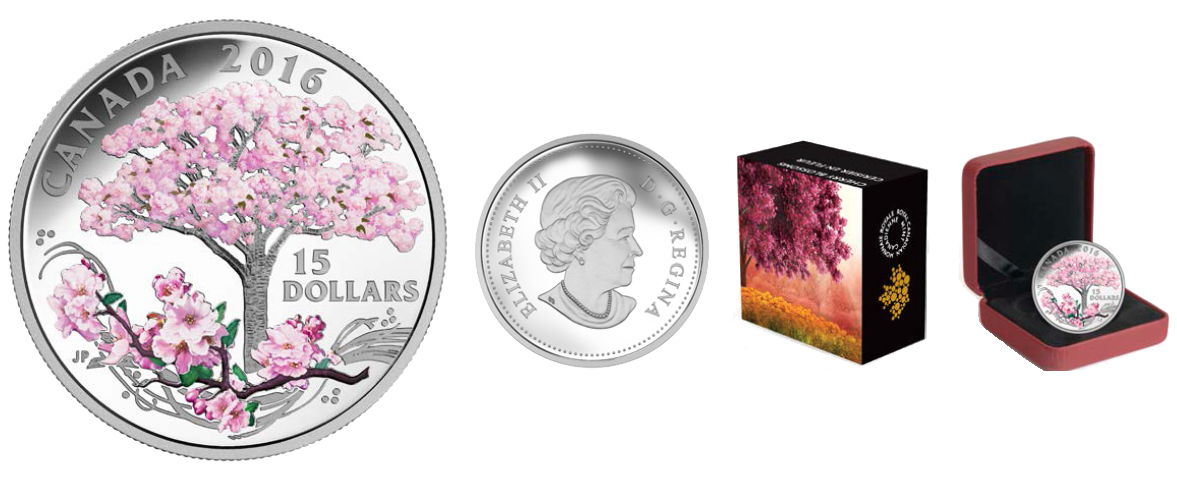 Canada 2016 $10 FINE SILVER COIN DAY OF THE DINOSAURS: TERROR OF THE SKY
Composition 99.99% pure silver
Mintage 10,000
Weight (g)* 15.87
Diameter (mm) 34
Face Value $10
Finish Proof
Soon
Canada 2016 $5 FINE SILVER COIN BIRTHSTONES – APRIL
Composition 99.99% pure silver
Mintage 3,000
Weight (g)* 7.96
Diameter (mm) 27
Face Value $5
Finish Proof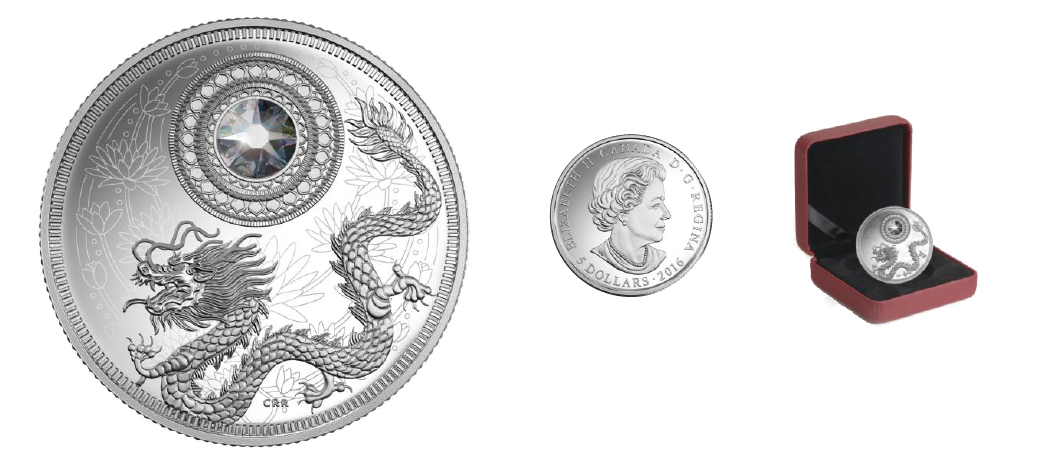 Canada 2016 10-CENT FINE SILVER COIN – BIG COIN SERIES – 10-CENT COIN
Composition 99.99% pure silver
Mintage 1,500
Weight (g)* 157.6
Diameter (mm) 65.25
Face Value 10-cent
Finish Proof
Soon