This coin is a continuation beautiful series of the Masterpieces of Art.
A numismatic masterpiece, made of 3 oz / 93,3 grams of pure silver 999 with authentic swarovski crystals inlaid in this 55 mm coin, issued by Cook Islands.
Contains 3 oz / 93,3 grams of .999 fine Silver.

Coin embellished with 16 Swarovski crystals

Coin comes in a beautiful black box with a COA.

Strict limited mintage of only 1614 coins.

Obverse: Effigy of Queen Elizabeth II, "Cook Islands", and the legal tender value of 20 Dollars.

Reverse: A very high quality rendition of The Flight Into Egypt - Peter Paul Rubens



.
History: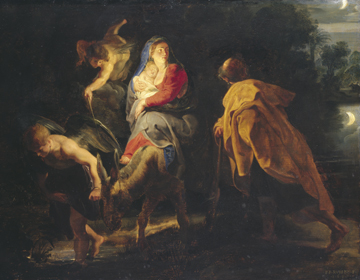 Flight Into Egypt - Peter Paul Rubens
Year 1614
Peter Paul Rubens
Pieter Paul Rubens (28 June 1577 –30 May 1640), was a Flemish Baroque Painter, and a proponent of an extravagant Baroque style that emphasized movement, colour, and sensuality. He is well-known for his Altarpieces, portraits, landscapes and history paintings of mythological and allegorical subjects.
In addition to running a large studio in Antwerp that produced paintings popular with nobility and art collectors throughout Europe, Rubens was a classically educated humanist scholar, art collector, and diplomat who was knighted by both Philip IV, King of Spain, and Charles I, King of England.

Flight into Egypt
The flight into Egypt is a biblical event described in the Gospel of Matthew (Matthew 2:13-23), in which Joseph fled to Egypt with his wife Mary and infant son Jesus after he learned that King Herod intends to kill the infants of that area.