Dear customers and partners!
We are pleased to introduce you to the latest offer from the Royal Canadian Mint. The following coins were issued in January 2016.
In our assortment we have a large range of coins from RCM. Our offer will be systematically increased by the next latest items that you can reserve today. We cordially invite you to cooperation.
Below you will find a New Year offer, if you are interested in any of the coins please contact us. Fast Contact
2016 $2,500 PURE 1 KG GOLD COIN IN THE EYES OF THE SPIRIT BEAR
Composition 99.99% pure gold
Mintage 10
Weight (g) 1,000 grams
Diameter (mm) 101.6
Face Value $2,500

2016 $100 GOLD COIN – CENTENNIAL OF THE PARLIAMENT BUILDINGS FIRE AND THE PRESERVATION OF THE LIBRARY OF PARLIAMENT
Composition 14-Karat gold
Mintage 1,500
Weight (g) 12
Diameter (mm) 27
Face Value $100
Finish Proof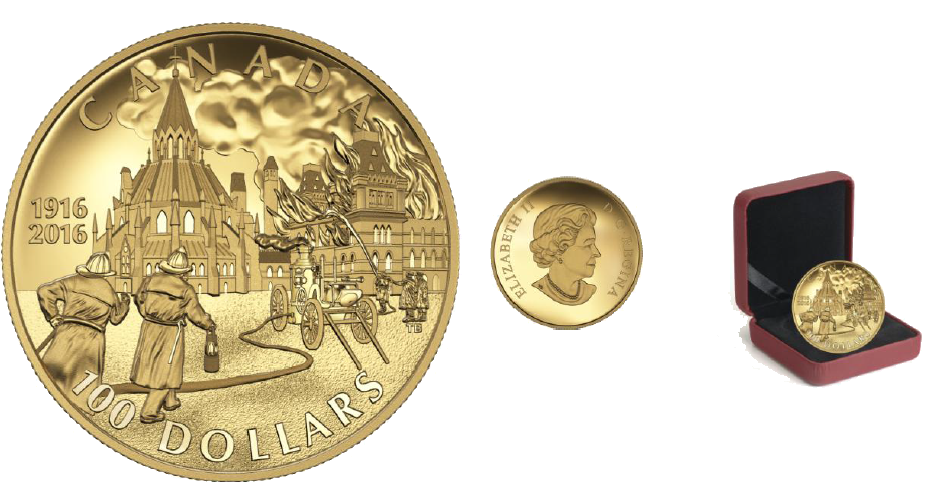 2016 $250 FINE SILVER COIN IN THE EYES OF THE SPIRIT BEAR
Composition 99.99% pure silver
Mintage 500
Weight (g) 1,000
Diameter (mm) 102.1
Face Value $250
Finish Proof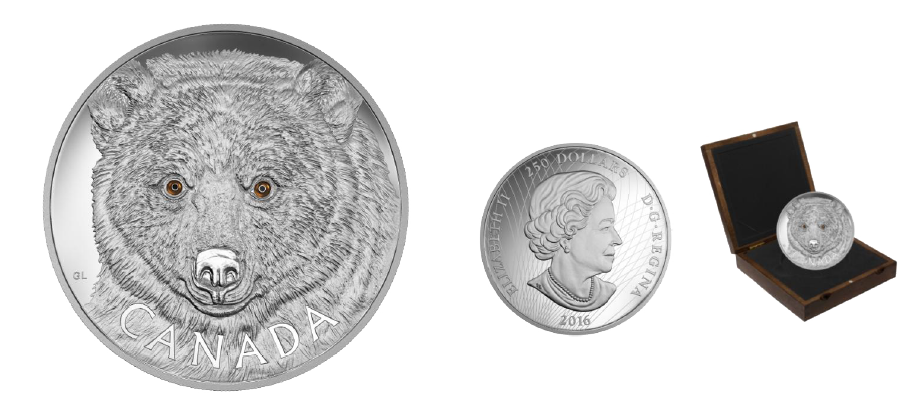 2016 $8 FINE SILVER COIN DRAGON DANCE
Composition 99.99% pure silver
Mintage 20,000
Weight (g) 7.96
Diameter (mm) 27
Face Value $8
Finish Matte proof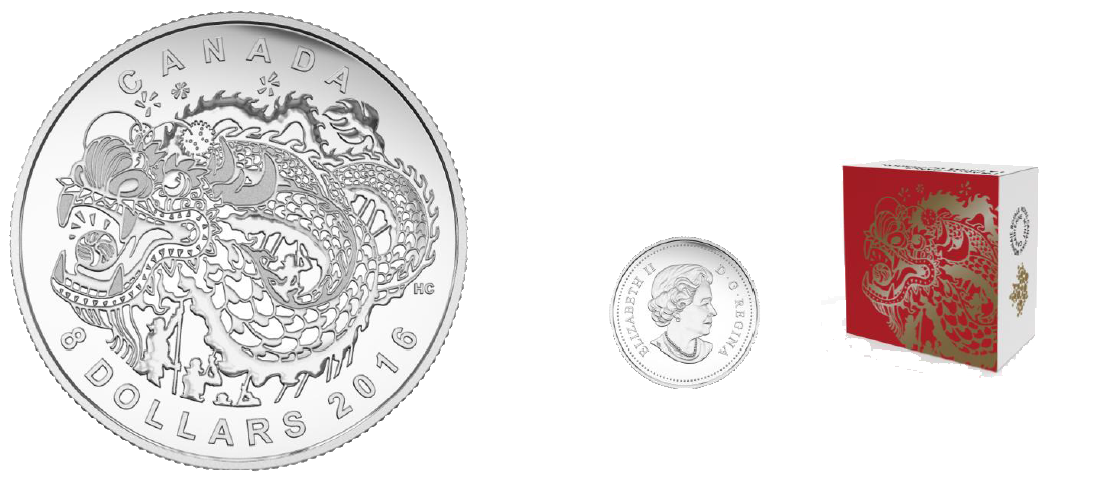 2016 $10 FINE SILVER COIN WELCOME TO THE WORLD
Composition 99.99% pure silver
Mintage 20,000
Weight (g)* 15.87
Diameter (mm) 34
Face Value $10
Finish Reverse Proof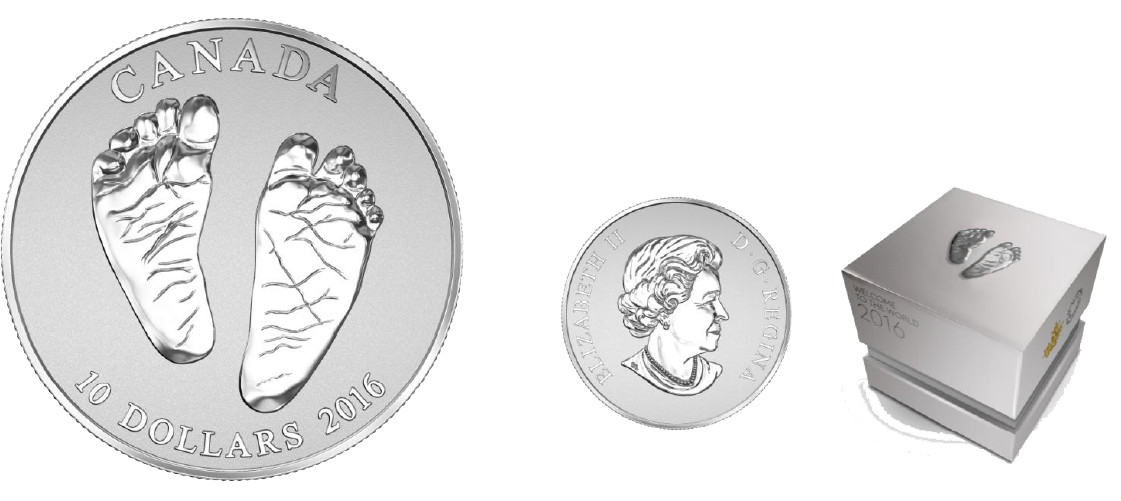 2016 $20 FINE SILVER COIN – AIRCRAFT OF THE FIRST WORLD WAR SERIES – THE ROYAL AIRCRAFT FACTORY S.E.5A
Composition 99.99% pure silver
Mintage 7,500
Weight (g) 31.83
Diameter (mm) 40
Face Value $20
Finish Proof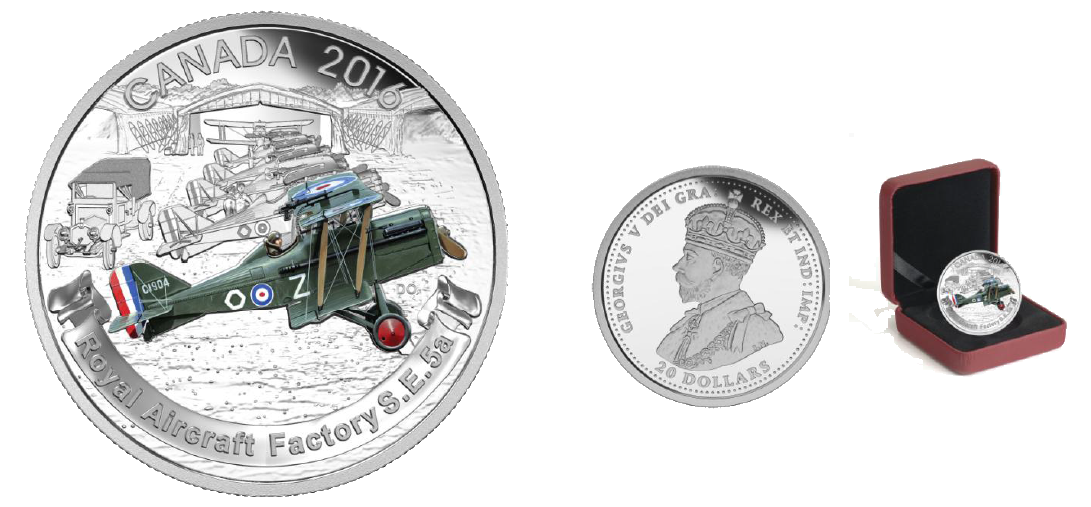 2016 $20 FINE SILVER COIN – CANADIAN SALMONIDS ATLANTIC SALMON
Composition 99.99% pure silver
Mintage 7,500
Weight (g)* 31.83
Diameter (mm) 40
Face Value $20
Finish Proof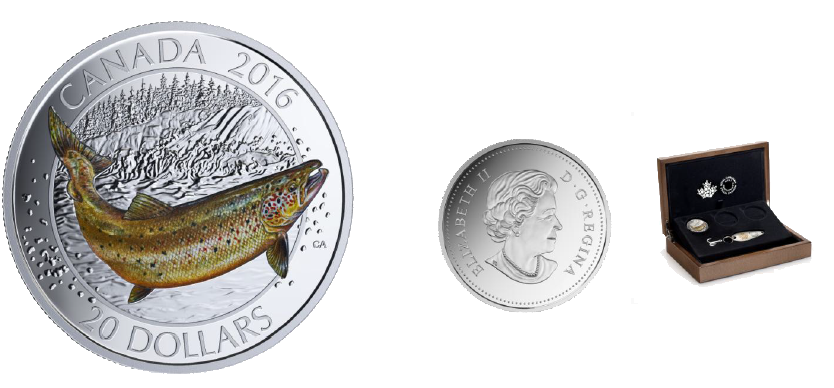 2016 $20 FINE SILVER COIN CANADIAN LANDSCAPE SERIES – SKI CHALET
Composition 99.99% pure silver
Mintage 7,500
Weight (g) 31.83
Diameter (mm) 40
Face Value $20
Finish Proof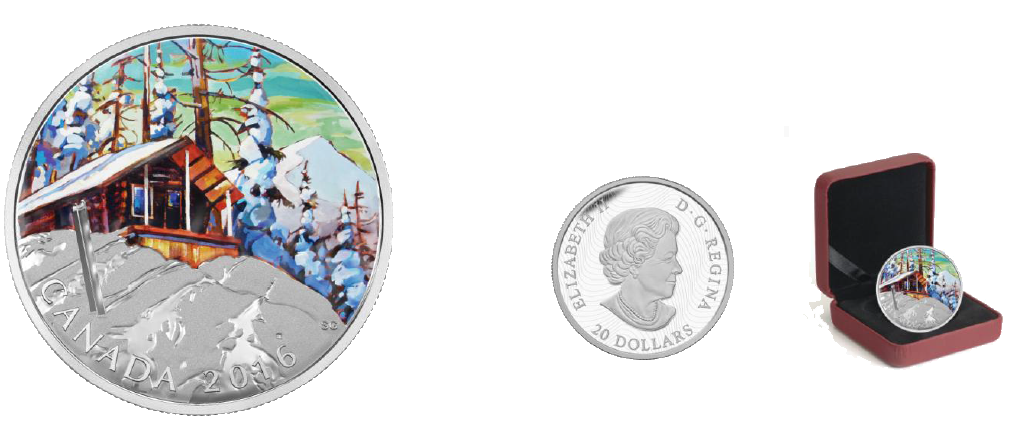 2016 $20 FINE SILVER COIN GEOMETRY IN ART: THE POLAR BEAR
Composition 99.99% pure silver
Mintage 7,500
Weight (g) 31.83
Diameter (mm) 40
Face Value $20
Finish Proof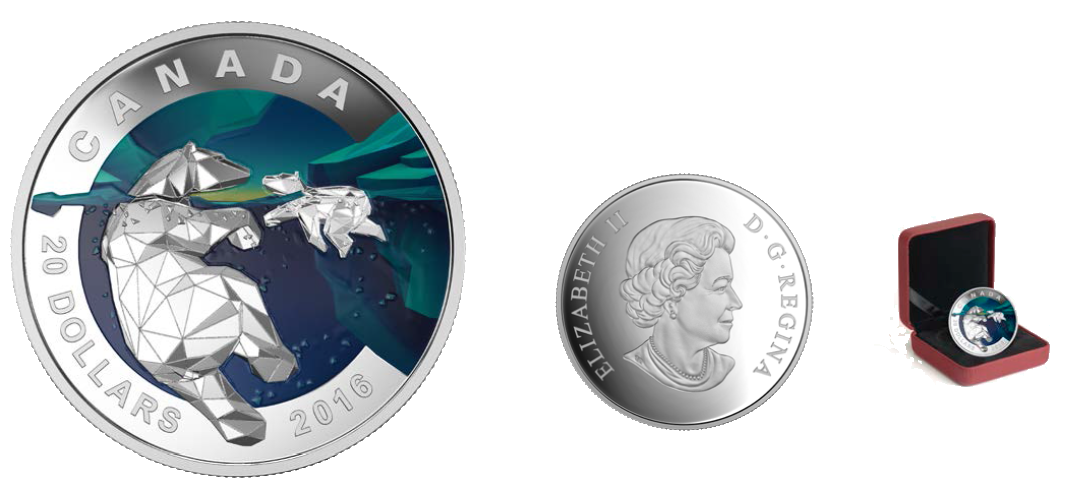 2016 $20 FINE SILVER COIN TYRANNOSAURUS REX
Composition 99.99% fine silver
Mintage 300,000
Weight (g)* 7.96
Diameter (mm) 27
Face Value $20
Finish Specimen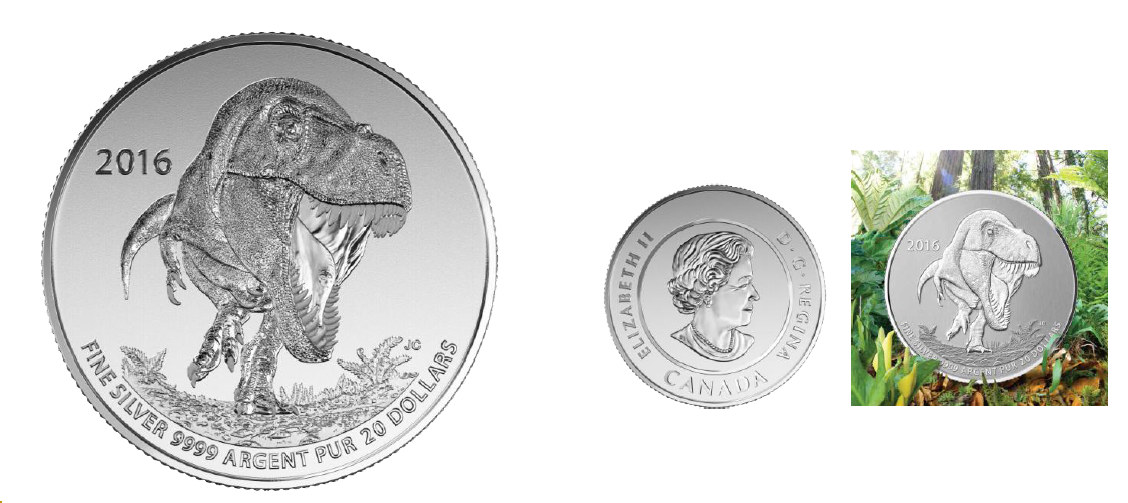 2016 $25 FINE SILVER COIN SCULPTURAL ART OF PARLIAMENT – GROTESQUE WILD GREEN MAN
Composition 99.99% pure silver
Mintage 4,000
Weight (g) 30.75
Diameter (mm) 36
Face Value $25
Finish Proof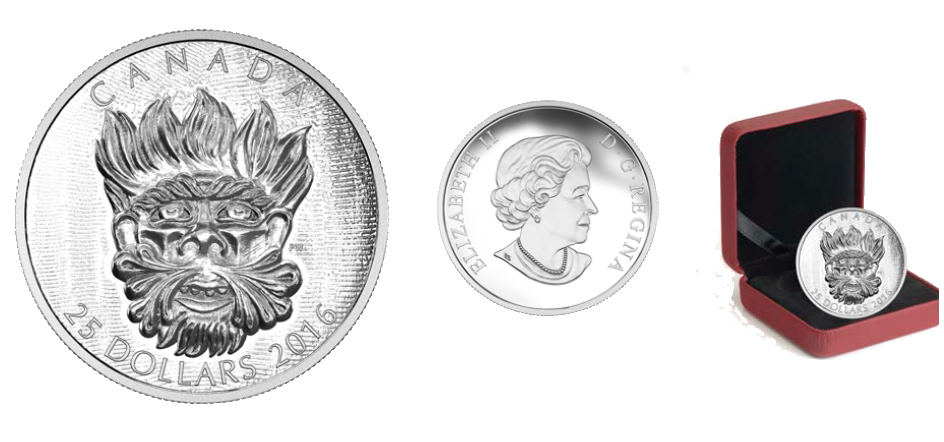 2016 $30 FINE SILVER COIN NORTHERN LIGHTS IN THE MOONLIGHT
Composition 99.99% fine silver
Mintage  4,000
Weight (g) 62.67
Diameter (mm) 54
Face Value $30
Finish Proof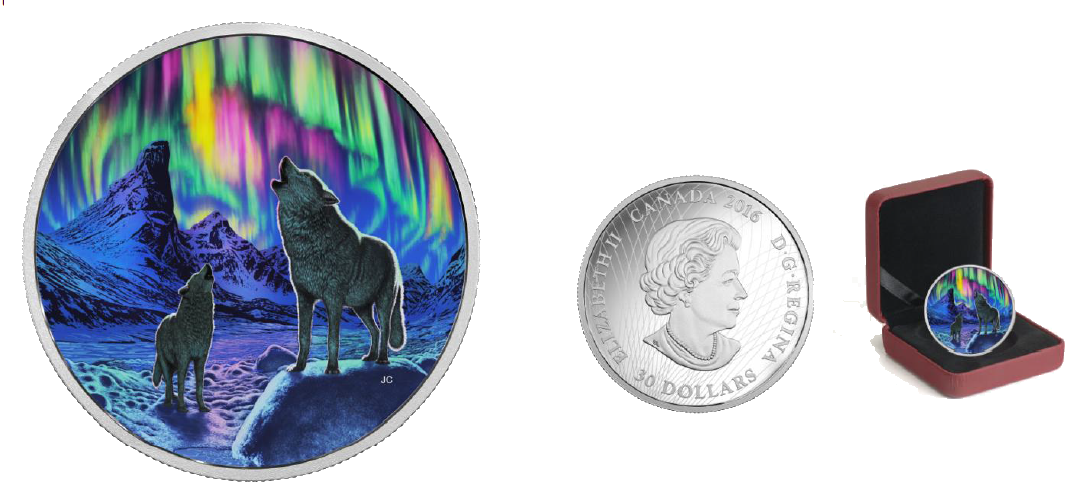 2016 25-CENT FINE SILVER COIN BIG COIN SERIES – 25-CENT COIN
Composition 99.99% pure silver
Mintage 1,500
Weight (g) 157.6
Diameter (mm) 65.25
Face Value 25-cent
Finish Proof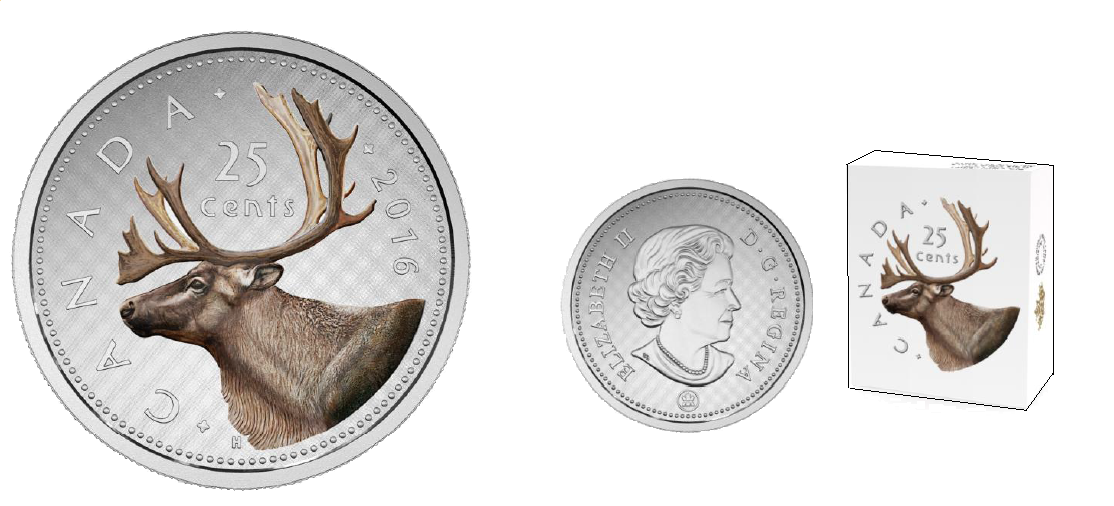 2016 FINE SILVER PROOF SET 150TH ANNIVERSARY OF THE TRANSATLANTIC CABLE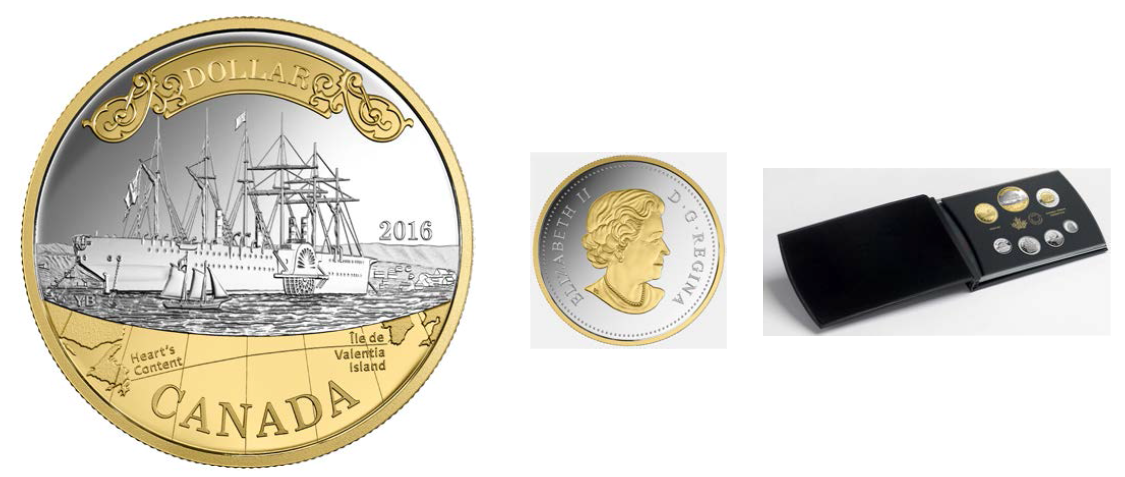 2016 PROOF SILVER DOLLAR 150TH ANNIVERSARY OF THE TRANSATLANTIC CABLE
Composition 99.99% pure silver
Mintage 20,000
Weight (g) 23.17
Diameter (mm) 36.07
Face Value $1
Finish Proof