A mere one hundred and fifty people ACROSS THE WORLD will be able to own this prestigious, edge-numbered 38.61mm 1oz gold Proof coin!
Sure to command the attention of anyone with an appreciation for the finest that modern minting has to offer – and those enchanted by the unparalleled beauty, rarity and prestige of the world's favourite precious metal – there is no doubt that the 2014 $100 WWI Centenary 1oz Gold Proof Coin will also be hunted down by the many people seeking coins defined by extremely exclusive limited availability.
Extremely exclusive! Worldwide mintage restricted to a mere 150 coins!

Superbly struck from 1oz of prestigious 99.99% pure gold

Official legal tender, with the Elizabeth II portrait gracing the obverse

Crown-sized, each large, imposing coin measures 38.61mm in diameter

Housed in a plush timber case with a numbered Certificate of Authenticity

History:
HMAS Sydney was a Chatham class light cruiser of the Royal Australian Navy (RAN). Laid down in 1911 and launched in 1912, the cruiser was commissioned into the RAN in 1913.
During the early stages of World War I, Sydney was involved in supporting the Australian Naval and Military Expeditionary Force, and escorting the first ANZAC convoy. On 9 November 1914, the cruiser defeated the German cruiser SMS Emden at the Battle of Cocos. During 1915 and 1916, Sydney operated on the North America and West Indies Station, before joining the 2nd Light Cruiser Squadron at Greenock, Scotland in November 1916. On 4 May 1917, the cruiser was involved in an inconclusive action against the German zeppelin L43; neither was damaged. During late 1917, Sydney became the first Australian warship to launch an aircraft, and the first warship to do so from a rotatable platform.
After the war's end, Sydney spent a year in reserve before being reactivated to serve as Flagship of the RAN. The cruiser was decommissioned in 1928 and broken up for scrap. Several sections of the ship, including her bow and foremast, have been preserved as monuments, and three of the ship's main guns saw later use in shore fortifications.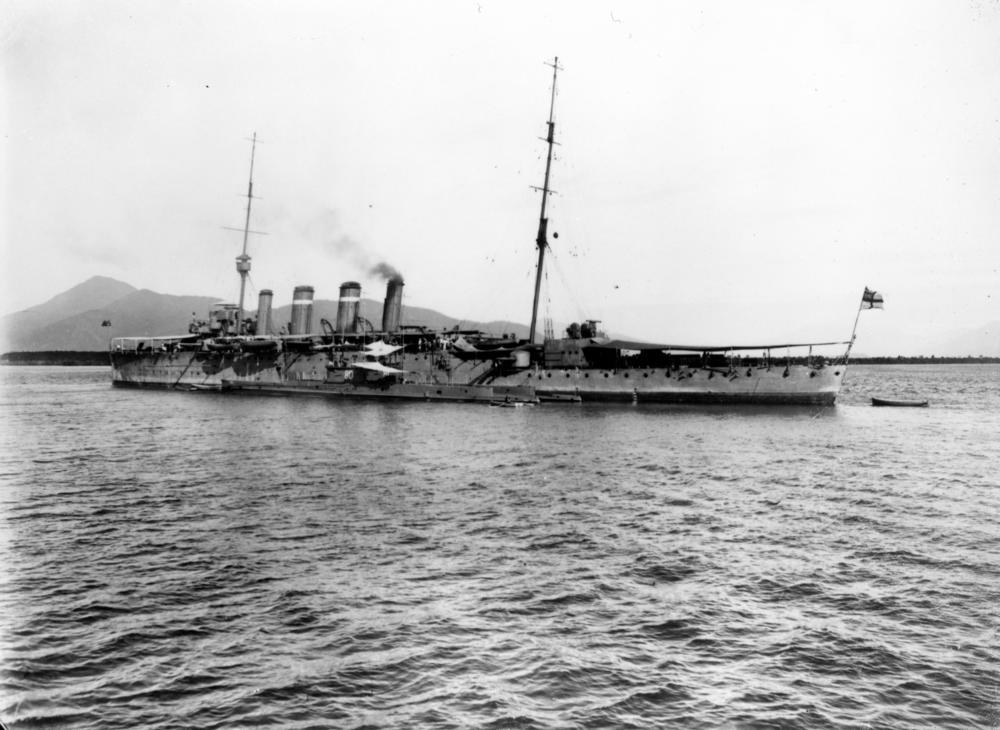 .
.